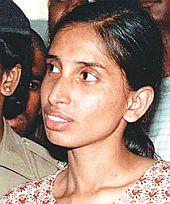 The Madras high court on Wednesday quashed all proceedings pending in a lower court against former Prime Minister Rajiv Gandhi assassination case convict S Nalini in connection with the seizure of a mobile phone in her cell in the Vellore prison.
Passing orders on a petition by Nalini, Justice P Devadass said since the Jail Superintendent had already awarded punishment to her by way of permanent reduction from higher class 'A' to lower class 'B' under Prison Rules, she cannot be prosecuted before another forum for the same offence.
Nalini, serving life sentence in Vellore Central Prison, in her petition had sought quashing of the proceedings in the Judicial Magistrate Court in Vellore in connection with the seizure of the mobile phone from her cell on April 20, 2010, citing downgrading of her prison class.
According to the prosecution, when officials tried to seize the mobile phone, Nalini deterred them from discharging their duties. Based on a complaint by prison officials, a criminal case was registered against Nalini for offences under various Indian Penal Code sections read with the Prison Act, 1894.
The police, after investigation, filed a report before the Magistrate court which framed charges and the trial was underway with the examination of some of the prosecution witnesses completed.
Allowing Nalini's petition, the judge said as per the Prison Rule 301, the Jail Superintendent has got option either to exercise the power of punishment under the rules or to prosecute the prisoner before a regular court.
Noting that the Superintendent can have either any one of the modes and not both, he said the official had exercised the first option and on May 28, 2010 Nalini was awarded the punishment of reduction in her class in the prison.
The act of the superintendent seeking to prosecute the prisoner was abuse of the court, he held and quashed the entire proceedings before the magistrate.