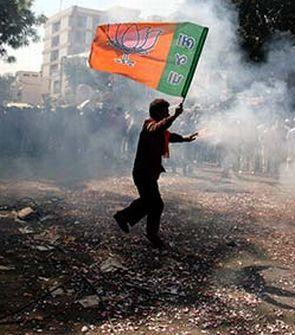 The Tamil Nadu state unit of the BJP has been alleging that its leaders are being systematically attacked/murdered in the state. A Ganesh Nadar brings to light five cases where workers of the BJP or its affiliate organisations were attacked, to find out if there is any truth in the charges.
Case 1:
Bharatiya Janata Party leader M R Gandhi is 68 years old. He was on his morning walk on April 21, in Nagercoil, Kanyakumari district, when four men arrived on two motorcycles.
Before Gandhi knew what was happening, he had been stabbed -- on his back, shoulder, in his stomach and legs. It was 6 am.
Before more murderous injury could be inflicted, others walking in the area rushed to the old man's rescue, forcing the assailants to flee. Gandhi was rushed to hospital and survived.
What was the probable cause for the attack? Gandhi is an executive committee member of the BJP's Tamil Nadu unit.
The police arrested K Mohammed Salin, a former member of the outlawed Al Umma group from Melapalayam in Tirunelveli district for the attack. Brabu alias Hamsa (25) of Elankadai near Nagercoil was arrested later. At the same time another police team arrested Abdul Sameem of Thiruvithancode in Chennai. Two more youth was also arrested from Thiruvithancode.
Barring Salin the others do not have any police records. As they have been charged under the National Security Act, none of them has been able to obtain bail.
While the police say Gandhi was attacked with broken bottles, the victim says the attackers carried swords.
"I did not notice anything," Gandhi told rediff.com at his home in Nagercoil three months after the attack.
"I was not expecting anything. I have no personal enmity against anyone. Political rivalry is something else. It is not decided by violence," he said, adding that he has been in the BJP and its parent, the Jana Sangh, since his college days in the 1960s.
There are two theories on the attack on Gandhi. One is the police version that the youth attacked him for his politics, for which they have arrested five people. The other theory doing the rounds is that it is the fall-out of a family dispute. Gandhi is a bachelor with lots of property. He is planning to leave it to one of his nephews. He has four sisters and many nephews.
A L Khaled is the president of the Kanyakumari Muslim Munnettra Kazhagam. He was born Mohan and converted to Islam. He has been a member of the RSS and has worked with Gandhi in the past.
Khaled told rediff.com, "This is purely a family dispute. Gandhi is a bachelor. He had promised to give his property to his younger brother's son and then gave it to his younger sister's son."
He alleges, "Family dispute is behind the attack. The police were under pressure to arrest someone quickly. They chose the easiest route available. Whenever a Hindu leader is attacked they arrest Muslims and vice versa. Ask any god-fearing policeman if they have any proof against the arrested youth and he will tell you that they have none."
BJP state president Pon Radhakrishnan belongs to Kanyakumari district and is a former MP from this constituency. He says, "Gandhi has no enemies. He is a social worker. Why should his nephew attack him? These rumours have been planned and spread to divert attention from the planned attack. They first try to kill our party man and then try to make it into a family dispute".
Case 2:
Nambu alias Kuttainambu, 55, secretary of the Hindu Munnani's Rameswaram unit, was found dead with injuries on the head and chest caused by a boulder on the night of July 7.
The murder came close on the heels of the killing of Hindu Munnani state secretary Vellaiyan by a gang in Vellore a week earlier, raising suspicion that leaders of the Hindu Munnani were being targeted.
Police arrested Ramachandran and another person who confessed to murdering Kuttainambu.
Local BJP leader Muralidharan appealed to Chief Minister J Jayalalithaa to provide assistance to the family of Kuttainambu, who leaves behind six daughters and a son.
Kuttainambu used to live near the railway station. But there was only a vacant plot there, no house. His daughter Kalaivani said, "Our house fell down last month. Father said he would build it again but that never happened."
In between tears, Kalivani narrated the events of the night of July 7. "Father came home in the evening. He left again at 8 pm. At around midnight some boys came running to me and said, 'Your father is hurt badly come with us'. I went with them and found my father on the ground bleeding."
"He said, 'I was sleeping when they attacked me, I could not do anything. There were six of them but I recognised only two'.
"I took him to hospital and got him admitted. I told the police the two names he had told me. Next morning his chest was swollen. He died in hospital," she said
The police have arrested both the named accused. What is surprising is that though even the family members say that the murderers are from their caste and community and the quarrel was between drunken individuals, the police have booked them under the stringent NSA.
Kuttainambu's wife Parvatham died six years ago. Kalaivani said, "Earlier he was a tourist guide, but in the last 15 years he has been in the Hindu Munnani."
Five of his daughters are married and the unmarried one works at a garment unit in Tirupur. The son works as a painter in Chennai. Three of the married daughters live near by while two are in other villages. They are married to fishermen.
Kalaivani and her elder sister are now living in the open space, hoping for help from any quarter.
"The Hindu Munnani people came for the funeral and after that they vanished. They never came back. No one came to help us. We have received no help from the government too," said Kalaivani.
The canteen at Rameswaram station is run by the secretary of the Hindu Munnani, Mariappan. He said, "We removed Nambu from our organisation six years ago. He had taken to drinking and was spoiling our name." He alleges that Nambu was murdered in a dispute over alcohol.
"If his daughter had called us, we would have taken him to the district hospital in Ramanathapuram and probably saved him. She admitted him here and that killed him."
Hindu Munnani district secretary Advocate Ramagopalan had a totally different version. "Kuttainambu was not only a member of the Hindu Munnani, he was our town secretary. He was very much in our organisation when he died. He was killed by locals due to a dispute and the accused have been arrested," he said.
When we asked Mariappan why they gave the murder so much publicity, when all along they knew this was a quarrel gone wrong, he said, "We thought his poor family will get some money, that is why we made a hue and cry."
J Rafiq is the president of the district Rotary Club and also the Ramanathapuram Congress secretary. He told rediff.com, "These people have no issues so they create one. Ramanathapuram is the most peaceful district in the state as far as religion is concerned. Rameswaram is a well known pilgrimage center. People of all religions, stay here in peace."
Case 3:
Rameswaram is the most famous town in the Ramanathapuram district of Tamil Nadu, thanks to its temple, but the business capital of this district is Paramakudi.
The market in Paramakudi is called 'Peria Kadai' which literally translates to big shop. Actually there are innumerable small shops here selling everything under the sun. From gold to silver to utensils to clothes to groceries, everything is available here.
The market is dominated by the original trading community of Tamil Nadu -- the Chettiars. There are also shops belonging to other castes and communities.
In the middle of this bazaar at about 2 pm on March 19, Murugan was returning to his shop from his home nearby. He was attacked and killed.
A gang threw three pipe bombs at him, only one exploded. But that was enough for people to run and leave Murugan at the mercy of an armed gang which attacked him with swords and hacked him in full public view.
They left him bleeding with injuries on his neck, hands and head. He died on the spot.
Murugan's younger brother Sivakumar says, "My brother was an active BJP worker and so he was murdered, there were six people on three bikes, but only three participated in the attack, but the police have arrested the wrong people."
He admits that they had a land dispute with one of the arrested men, N Raja Mohammad, and his nephew N Manoharan. He said he did not know the other two who the police claim are mercenaries -- Rafeeq Raja and Sahul Hameed.
"The land dispute was on for 10 years and last year it was resolved in our favour by the courts. We sold it only after that. It was our ancestral property and Raja Mohammad had tried to grab it with false documents. He failed."
"Raja Mohammad was known in the area as a cheat but he is not a murderer. He is over 50 years old. You really think he will ride into the bazaar on a motor bike with bombs and swords in his hand? Manoharan is over 40, incapable of making bombs. They should be in jail for cheating, not for murder," says Sivakumar.
J Rafiq of the Congress says, "The Murugan murder is the result of a real estate duel gone bad. The dispute was not due to politics, it was due to real estate. The police know that and they have arrested the right people.
"I agree with you that ordinary people do not throw pipe bombs but if you read the case carefully, two of the arrested are mercenaries. They will have the knowhow to make bombs. Everyone knows how to make a pipe bomb or petrol bomb these days."
Case 4:
Nagappattinam town is full of hotels thanks to its port. BJP leader Puzhalendi was murdered here a year ago. His son Raghuram says, "The police investigation has been shoddy, they have their preconceived notion and they went out of their way to prove it. The real conspirators have not been caught".
According to him, his father had a running feud with the Velankanni church as in 2008 he had accused it of encroaching upon thousands of acres of government land. "The priests are also angry that he started a Ganesha procession here in 2009. They have connived with Christian cops and make him out to be a goonda".
Puzhalendi was murdered by a four-member gang when he was out on his morning walk on July 4 last year. A known goonda, Sekar surrendered the same day. Another surrendered within a week. A third was arrested by the cops. The fourth is still absconding.
Nagappattinam superintendent of police Sibi Chakravarty told rediff.com, "Puzhalendi is a known history-sheeter. He has been to jail. He is the first accused in a land-grabbing case. Sekar is another goonda and both of them were friends. There was a fallout between them and Sekar killed him. There is absolutely no communal motive".
BJP Tamil Nadu state president Pon Radhakrishnan told rediff.com, "This regular killing of our leaders has not happened anywhere in the country, it is happening only in Tamil Nadu because of the appeasement of minorities. This is happening since 1980 but now it's more frequent."
However, as the above cases indicate, while several of its leaders may have been killed, these may have been due to local factors or disputes and not part of a grand conspiracy.