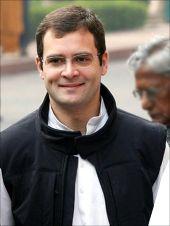 Congress vice president Rahul Gandhi on Friday held closed-door meetings with party leaders in Uttarakhand as part of his stock-taking exercise in states following his elevation.
Fresh from holding a second round of consultations with All India Congress Committee office-bearers in Delhi, Rahul headed straight to a hotel in Dehradun after landing in the morning at Jollygrant airport and was closeted with party functionaries for about two hours before lunch.
Senior state-level leaders like Uttarakhand Congress chief Yashpal Arya, vice-president Suryakant Dhasmana and state Congress spokesman Dhirendra Pratap were with Rahul at the hotel which has been declared out of bounds for the media.
AICC in-charge of party affairs for Uttarakhand Chaudhry Virendra Singh was also present during the discussions.
Rahul is scheduled to interact with party workers and leaders in two sessions in the city, at the Aketa and Madhuban hotels and will also address an NSUI camp.
Tight security arrangements have been put in place in the city in view of the Congress VP's visit, especially around Rajpur Road where all these hotels are located.
Rahul's visit is being seen as an exercise in preparing the Congress for the forthcoming civic body polls in the state and the 2014 general elections.
Rahul had decided to have interactions with state-level leaders beginning with a two-day visit to Odisha last month where he sought feedback from grassroots workers in the state.
Image: Reuters