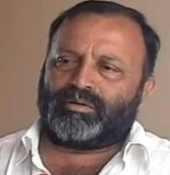 Former Congress MP Vitthal Radadia, who had hit the headlines last year for brandishing a gun at a tollbooth, on Friday joined the Bharatiya Janata Party along with his son and supporters in the presence of Gujarat Chief Minister Narendra Modi in Dhoraji.

The development could be a setback for the Congress as Radadia, who belongs to Leuva Patel community, is a prominent leader of farmers and cooperative sector from Saurashtra. Several cooperative movement leaders from Saurashtra too joined the BJP at the function attended by thousands of people.
Modi offered a saffron scarf to Radaida, formally inducting him into the party. "It is for the first time in the history of the BJP that such a large group of people is joining the party," Modi said adding he welcomed Radadia with an "open heart". Modi also described Radadia as a "fighter and a mass leader".
Radadia said he had been working for the Congress for the last 18 years but now he was "mentally tired". "We have joined the BJP to strengthen the hand of Chief Minister Narendra Modi who is the prime ministerial candidate from Gujarat for the 2014 elections," Radadia said.
"The Congress people are saying they won't be affected by my joining BJP. They will see the effect in 2014 elections".
Radadia had last October brandished a gun at toll booth at Karzan and his action was caught on CCTV. He was Porbandar MP then. He and his son Jayesh fought and won state assembly elections from Dhoraji and Jetpur respectively in December, after which Radadia resigned as MP.
On February 25, he and his son resigned as MLAs and also from primary membership of Congress. He was miffed after the Congress chose Shankarsinh Vaghela over him for the post of Leader of Opposition in the Gujarat assembly.