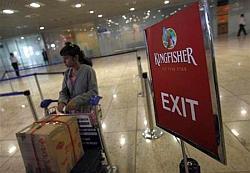 The Supreme Court on Friday rejected Kingfisher Airlines' plea against the Karnataka High Court's order directing it to deposit around Rs 185 crore with the Income Tax Department as TDS from its employees' wages.
The apex court, which had asked the cash-strapped airlines to deposit the money within four weeks, refused to extend the time limit as sought by the Kingfisher's counsel.
The bench headed by Justice R M Lodha rejected the airline's plea to give three more weeks.
The Vijay Mallya-owned airlines had challenged the December 5 order of the high court directing it to deposit 50 per cent of the Rs 371 crore to IT department. It had also asked the company to furnish bank guarantee for the remaining amount within six weeks.
The company had contended that the amount due is much less than the demand made by the IT Department and the department had not given it a proper opportunity to hear its case.
It said the Department had issued notices without providing the company reasonable and sufficient opportunity of being heard.
The Department had claimed that the company had illegally withheld the revenue even after deducting the said amount from various sources, including by way of tax deducted at source (TDS).
The Department, in December 2011, had demanded payment of about Rs 372 crore as TDS from the company for the assessment years 2010-11, and 2011-12 following analysis of records.