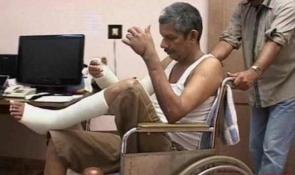 In a relief to college lecturer T J Joseph, whose hand was chopped off by activists of a radical outfit, a magistrate court in Idukki has exonerated him of the charge of hurting religious sentiments of a community through a question paper he set for his students.
The Chief Judicial Magistrate at Thodupuzha, considering the police case, discharged Joseph on Wednesday from the case accepting his plea that he had prepared the questions for the graduate course without any mala fide intention.
A former lecturer of Malayalam literature of Newman College at Thodupuzha, Joseph was attacked and his right hand chopped off allegedly by activists of a fundamentalist outfit on July 5, 2010, while he was going to church with his family members.
The attackers told him that he was being punished for sacrilegious undertones of one of the questions he set for the second year graduate students.
The hand chopping case is being investigated by the National Investigation Agency and the trial is progressing.
Despite widespread condemnation the incident evoked, the college management dismissed Joseph from the job. His plea challenging the decision is pending before the University Apallete Tribubanal.
Joseph, when contacted, said he is now engaged in writing a book about the harrowing experience he had gone through. The book will be published only after the pending case was over, he said.

Image: TV grab of college lecturer T J Joseph