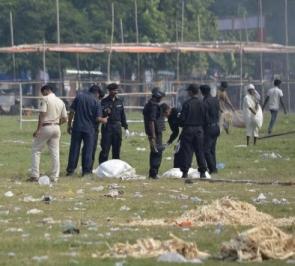 Four people have been arrested by the National Investigation Agency from Bihar's Lakhisarai district on Saturday in connection with the serial blasts in Patna, according to state police officials.
The NIA has detained six people and seized 300 bank passbooks, 30 ATM cards and other documents while conducting raids at various places.
"The NIA has conducted raids at several places in Lakhisarai on the basis of information provided by intelligence agencies and the agency has detained six people," a district police official said.
"Four were arrested and sent to custody on charges of providing financial help to terror suspects," said police.
NIA officials believe that the arrested accused have links with terrorists who were behind the Patna serial blasts.
In the last three days, the NIA had conducted raids at several places, including Muzaffarpur and Motihari.
Earlier this week, Bihar police had formally handed over the investigation into the serial blasts to the NIA.
The NIA has conducted raids in Muzaffarpur and Motihari in East Champaran and Patna
districts in search of suspects.
Six people were killed and over 100 injured in serial blasts that rocked Patna hours before Bharatiya Janata Party's prime ministerial candidate Narendra Modi was scheduled to address a rally there.
Image: At one of the sites of the Patna serial blasts