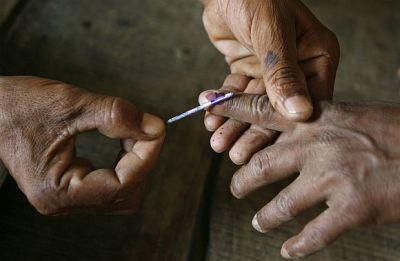 70 per cent voting was recorded across 18 constituencies of Bastar and Rajnandgaon till 3 pm in the first phase of assembly election in Chhattisgarh, where violence by Naxals who have called for a poll boycott left a Central Reserve Police Force jawan dead.
Naxals ambushed a team of election personnel when they were returning after conclusion of polling in Katekalyan area of Dantewada district in south Chhattisgarh, killing Central Reserve Police Force jawan B Joseph of 186 battalion.
Also, over ten bombs, including a 10 kg pipe bomb, were recovered and a policeman was injured in a bomb attack by Naxals since morning.
"So far, around 70 percent polling has been registered," Joint Electoral Officer D D Singh told PTI.
Amid tight security, polling in thirteen Naxal-affected constituencies of Bastar and Rajnandgaon concluded at 3 pm, while in other five constituencies of Rajnandgaon, it will conclude by 5 pm.
Voting, however, failed to start in two `hyper-sensitive' polling booths -- Durgapur and Sitram -- in Kanker district as polling officials could not reach there owing to Naxal resistance.
Ultras also looted electronic voting machines when a polling party was heading to their destination in Durgapur.
Two polling booths in Panidobir area of Kanker were relocated to Gudabeda in Antagarh area due to Naxal threat.
Rajendra Mahapatra, a presiding officer at Balinga polling booth of Kondagaon district, died of heart attack this morning, the official said. Another official was deputed there.
A pipe bomb was recovered from Murkinar area of Bijapur district. Eight bombs were recovered in Mangnar area and two in Kuwakonda area of Dantewada district during de-mining.
Tiffin bombs were recovered in Orcha area of Narayanpur district and a bomb in Kanker district, police sourcesA police personnel was injured when a 'pressure bomb' set by Naxals exploded in Kanker.
Encounters between security forces and Maoists were also reported near a few polling booths in Dantewada and Bijapur districts of south Chhattisgarh.
A total of 143 candidates from 12 constituencies are in the fray in Bastar division and six constituencies of Rajnandgaon district, which together account for an electorate of 29,33,200, in the first of the two-phase polls to the 90-member assembly.
Maximum number of candidates have been fielded in Rajnandgaon and Jagdalpur (14 each).
The fate of Chief Minister Raman Singh, who is hoping for a hat-trick this time, and three of his ministers -- Kedar Kashyap, Lata Usendi and Vikram Usendi -- would be decided in today's polling. Singh is contesting from Rajnandgaon.
In some places, relatives of victims of Naxal attack on Congress convoy in Jiram valley are in the fray.
Of the total 4,142 polling booths set up for the first phase, 1,517 are deemed `sensitive' while 1,311 are deemed `hyper-sensitive'.
Last time, of the 18 seats, BJP had won 15 while Congress had won three.
The remaining 72 constituencies, including Bilaspur and state-capital Raipur, would go to polls on November 19.
A total of 562 companies (56,200 personnel) of paramilitary forces have been sent by the Centre for beefing up security in the state, in addition to existing 40 battalions (40,000 men and women) of paramilitary forces.
Photograph: Reuters