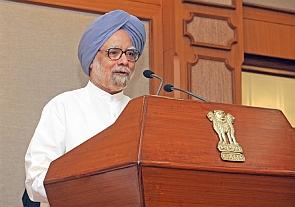 It was a quiet birthday without any celebration for Prime Minister Manmohan Singh today in the wake of twin terror attacks in the Jammu region.
Singh, who turned 81 on Thursday, did not cut a cake on board the special Air India aircraft, he took to travel to Washington from Frankfurt where he had stopped overnight on his way to the United States.
It was a sombre mood in the plane in the wake of terror attacks that claimed nine lives -- a Lt Col, two sepoys, four policemen, including ASI, and two civilians. On previous occasions, during visits to US the prime minister had cut cake though reluctantly because he says he is not given to birthday celebrations.
Singh was born on September 26, 1932 in Gah in undivided India which is now part of Pakistan's Punjab province. Three terrorists who attacked the army camp in Samba were killed by security forces.
Singh was greeted by officials and journalists accompanying him on his visit to the US.
Among others who wished the prime minister on his birthday were Gujarat Chief Minister and Bharatiya Janata Party's prime ministerial candidate Narendra Modi and Tamil Nadu Chief minister J Jayalalithaa.
"Best wishes to Prime Minister Manmohan Singh on his birthday. I pray for his long and healthy life ahead," Modi wrote on microblogging site Twitter.
In her message to Singh, Jayalalithaa said, "On the joyous occasion of your birthday, I would like to convey my warm felicitations to you and wish you many more happy returns of the day.
"I pray that the Almighty may grant you many more years of good health," she said. The prime minister had wished Jayalalithaa on her birthday in February this year.
Dravida Munetra Kazhagam chief M Karunanidhi also greeted Singh. "I am glad that you are celebrating the 81st birthday. I wish you a long life with good health and happiness," the 90-year-old Karunanidhi said.
Tamil Nadu Governor K Rosaiah in his greetings to Singh said, "Your rich acumen, pragmatic approach and able administration will bring about a greater momentum of growth in all spheres. I wish you a long, happy and healthy life in your distinguished service to the nation."