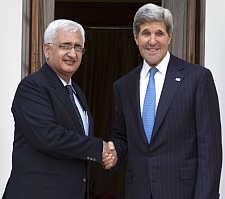 External Affairs Minister Salman Khurshid on Wednesday raised the problems being faced by Indian professionals coming to work or intending to come to work in the US on temporary work visas like H-1B with his American counterpart John Kerry during a meeting on the sidelines of the United Nations General Assembly.
The issue is likely to crop up in Prime Minister Manmohan Singh's meeting with US President Barack Obama.
"There is a lot of work the US has to do on this and we have to carry greater conviction (to our people). We are encouraged by the positive response that we have received but of course it requires work on the part of the US," the minister told journalists during a press briefing summing up his meeting with Kerry.
He, however, did not spell out what those "positive responses" were. Nor did he take any question from the media except for one or two as his aides said he had to go for a meeting of IBSA (India, Brazil and South Africa) foreign ministers.
The bilateral meeting between Kerry-Khurshid also took a final look on the Singh-Obama summit scheduled for Friday in Washington, DC, in terms of India-US issues.
Khurshid said there are four important areas that are expected to come up during the meeting, including enhancing bilateral economic cooperation, the concerns of both Indian and the American industries and also issues related to climate change.
"I informed him about what India has done on the issue of climate change. I also said that India will be happy to look more closely at HFC (hydro fluoro carbons). They (US) have an agreement with China on this. We asked for more information on this and that will help us make a more accurate assessment of the elements that would have to factor into our decision, essentially looking at alternative technology and the cost. We raised this as an important concern and to have more information on this. We also said that we will revive an old task force that was looking at this issue. The task force will move quickly and within a specific timeframe to come up with solutions," said Khurshid.