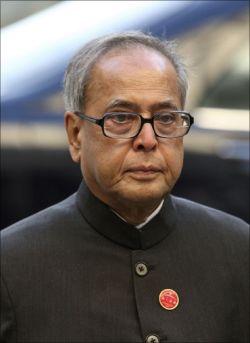 President Pranab Mukherjee has given the Andhra Pradesh assembly six weeks time to deliberate on the issue of Telangana.
The bill, which provides for creation of Telangana by bifurcating Amdhra Pradesh, has been sent to the Andhra Pradesh assembly by the President.
Earlier, sources told PTI that the President wanted the bill to be legally sound before sending it back to the state assembly for approval.
Although the Andhra Pradesh MLA's in their meeting earlier sought not to put Telangana on their agenda at the assembly session starting Thursday, they will have to take up the matter now.
The session is expected to be an action-packed one with the Telangana issue dominating the discussions.
The assembly will have six weeks time to deliberate the issue and report to the President. However, as per the law, the opinion of the assembly is not binding on the final decision, and the Union government can go ahead with the formation of the state once the bill is passed by the Parliament.