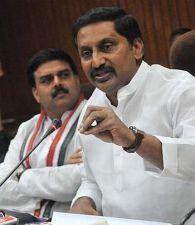 The Congress high command has sent across a stern message to Andhra Pradesh Chief Minister Kiran Kumar Reddy that he will be disqualified if he does not toe the party line on the Telangana issue.
Ahead of the crucial assembly session that begins Thursday, Digvijay Singh, general secretary of the All India Congress Committee, will visit Hyderabad and convey the message to Reddy personally.
The assembly session is expected to discuss the Telangana bill either on Thursday or Friday.
President Pranab Mukherjee on his return from South Africa will send the bill to the AP assembly.
Kiran Reddy and his camp are already bracing themselves up for a heated session in which they will ensure that the bill is defeated. Although the Seema-Andhra leaders are aware that defeating the bill would have no bearing on the decision, they might still do it as a face saver.
The bill in all probability will be defeated since the Seema-Andhra MLAs outnumber those from Telangana. The CM and his men also intend to stall the formation of Telangana and are keen on ending the session in five days.
They might drag the debate for four days and then defeat it, say sources close to the CM.