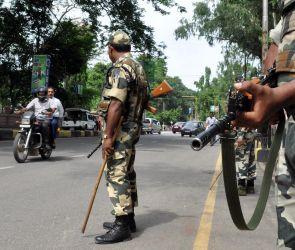 Elaborate security arrangement have been made in and around Guwahati city for President Pranab Mukherjee who will arrive in the city on Monday afternoon. The will be the Pranab Mukherjee's maiden visit to Assam after becoming the President. He is on a two-day visit to the state and is scheduled to visit AssamUniversity in Silchar, South Assam on May 14 to address the 13th Convocation of the AssamUniversity.


The traffic plan for the two days has been widely advertised in the local dailies by the city police. Movement of vehicles has been restricted along the routes to be taken by the President during his two-day stay.
Security pickets have been increased in the city in view of the VVIP visit while patrolling by police has been intensified. All public transport as well as private vehicles coming to the city from various parts of the region is being subjected to thorough checking.
A police source informed guest lists of hotels and private guesthouses in the city are being monitored, while images of close circuit cameras are being minutely checked.


The president will arrive in the afternoon and travel straight from the airport to Indian Tea Association Cultural Complex at Machkhowa in the city where he will present two top awards of Assam government -- the Srimanta Sankardeva Award to veteran actor Sharmila Tagore and Asom Ratna posthumously to litterateur Mamoni Raisom Goswami.
The award ceremony is scheduled to be held at 4 pm.
The President will then travel to Pandu to attend the closing ceremony of the golden jubilee celebrations of PanduCollege, an old institution of higher learning in the city.
Mukherjee will spend the night at Raj Bhawan and will board a flight to Silchar in South Assam on Tuesday morning.