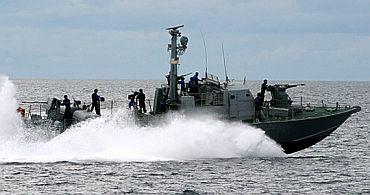 For the first time after the 26/11 Mumbai attacks, an Indian coast guard team visited Pakistan earlier this week to discuss the issues of fishermen languishing in jails and coordination between the two maritime forces.
During the two-day visit from June 30, the Coast Guard team led by its Director General Vice Admiral Anurag Thapliyal held talks with Pakistan Maritime Security Agency chief Rear Admiral Waseem Akram in Karachi, Defence Ministry sources told PTI.
The talks between the two sides revolved mainly around the issue of fishermen of the two countries lodged in each others' jails, they said. While 137 Pakistani fishermen are lodged in Indian jails, 373 Indian fishermen are imprisoned in the neighbouring country.
The Indian team asked its Pakistani counterpart to show more promptness in taking action in case of search and rescue operations in the sea as there have been cases where the response by Pakistani MSA has been quite slow, they said.
India and Pakistan had signed an agreement in 2005 as part of the confidence building measures between the two sides under which they agreed to increase cooperation between their coastal security agencies.
The two sides have set up a hotline between their director generals for ensuring better cooperation. The Indian DG talks to his Pakistani counterpart on the first Wednesday of every month while the Pakistani DG reciprocates it in the following week.
In 2008, Pakistani terrorists had taken the sea route to attack Mumbai in which more than 160 people were killed and scores left injured. After the incident, Pakistani MSA officials have come twice to India.