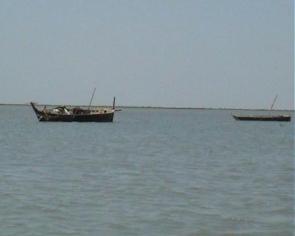 At least 12 Pakistani nationals were arrested along with their two boats by the Border Security Force for illegally entering Indian waters near Padala creek in Koteshwar off Kutch in Gujarat.
According to a BSF official, the 12 persons, who seemed to be fishermen were nabbed during patrolling on Thursday night. They will be brought to the joint interrogation centre in Bhuj by Friday evening where they will be grilled, official sources said. Nothing incriminating was recovered from their possession, sources said.
This is the second time this month that Pakistani nationals have been nabbed after they crossed the International Maritime Boundary Line.
On June 12, the Indian Coast Guard had apprehended a Pakistani boat with 12 fishermen onboard, 38 nautical miles off the IMBL near Jakhau coast in Jamnagar district of the state. The seizure of this boat and arrests of fishermen have raised suspicions, as now it's a non-fishing season.