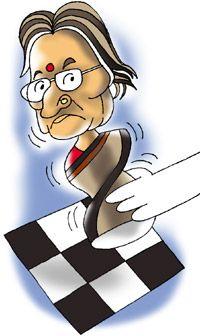 Congress masterstroke foiled by Vajpayee niece's failure. Illustration: Uttam Ghosh/Rediff.com.
The Congress's plan to field Karuna Shukla, Atal Bihari Vajpayee's niece, against Narendra Modi has fallen flat.
Shukla, a former BJP vice-president and once a member of Parliament, had turned a rebel during the Chhattisgarh assembly polls.
But her 'revolt' failed to make any impact in Janjgir, Champa, Bilaspur or anywhere else in the state.
Which came as bad news for the Congress which was planning on fielding Shukla against the BJP's prime ministerial candidate if Modi decided to contest from Varanasi, Uttar Pradesh.
The idea being, to pit Vajpayee's legacy against Modi and check the upper caste vote shift to the BJP.
Second thoughts have overtaken the Ma and Beta who have begun searching for other nominees to take on Modi.