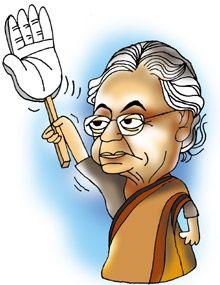 Why her party's top brass was cold to campaigning in the capital. Illustration: Uttam Ghosh/Rediff.com.
All is not well in the Delhi Congress party.
Chief Minister Sheila Dikshit is said to be upset with the party's central leadership for not doing enough.
Most Congress stalwarts, including Prime Minister Manmohan Singh and Finance Minister P Chidambaram, did not campaign for the Congress in the national capital.
Congress President Sonia Gandhi addressed one rally, party Vice-President Rahul Gandhi opted for two in Delhi in the run-up to the assembly election.
Did whispers of Dikshit nursing ambitions of a bigger role in the 'Delhi durbar' post-polls upset the high and mighty within the party?