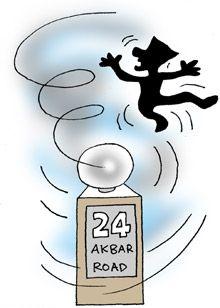 There's a quiet before the storm within the ruling party. Illustration: Uttam Ghosh/Rediff.com.
The aftermath of the poll debacle is creating a lot of bad blood within the Congress party.
Three Congress General Secretaries -- C P Joshi, Madhusudan Mistry and Mohan Prakash -- who were rising stars in the grand old party, now confront an uncertain future.
Pressure is mounting on Congress Veep Rahul Gandhi to reduce his dependence on Mistry, who had earned the nickname 'Mr Fix It' within the party.
Mistry's influence within the Congress had virtually eclipsed fellow Gujarati Ahmed Patel, who is said to be bouncing back as Sonia's crisis manager.
The winds of change may see the exit of B K Hari Prasad, Motilal Vora and Shakeel Ahmed from 24, Akbar Road, the party hq in New Delhi.