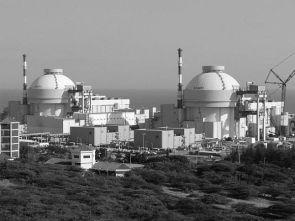 Pitching for greater use of "clean" and "dependable" nuclear power, Prime Minister Manmohan Singh on Monday made it clear that India will need large amount of energy to maintain the tempo of growth which averaged 7.9 per cent during the last 10 years despite two bouts of global recession.
Laying the foundation stone for a 2,800 MW nuclear power plant in Gorakhpur, he said the country will have to use all sorts of energy sources while keeping pollution under curbs so that environment is not affected.
"The average growth during the UPA tenure has been 7.9 per cent. We could sustain high growth despite two bouts of global recession. However we can maintain this tempo of growth only when we are able supply energy particularly power to industries, households and agricultural fields," he said while addressing a gathering after the laying the foundation stone.
Observing that "a long way has to be covered to meet our growing power demands", Singh said "We have to utilise all available energy sources including hydro, thermal, gas, wind, solar and nuclear power."
He said India will need more international cooperation in coping with its energy requirements.
He underlined that while utilising sources of energy, it has to be ensured that environment is not harmed.
In this context, he pitched for greater use of nuclear power. "Nuclear energy is a clean, dependable option which has very less affect on environment," he said.
He sought to allay security concerns over nuclear projects, saying best safety measures are being adopted for these projects.
Singh noted that the pace of economic development, as had taken place under the UPA regime, could only be maintained if the government increased energy supplies to industries, farmers and the common households.
"We will have to tap all available resources like hydro, thermal, gas, wind, solar and nuclear energy. At the same time, we will have to ensure that pollution is kept under check," he said.
Singh said that power generation had increased manifold in the last 10 years, and added that the country now has an installed capacity of 4800MW of nuclear power.
The aim was to generate more than 27,000MW of nuclear power in the next 10 years, he said.
Talking about the Gorakhpur plant, Singh said that half the power produced by it would be allocated to Haryana to enable it to meet the energy demands of the rural and industrial sectors.
"The people of this region should get the maximum benefit (from the project)... Compensation has been paid by government. An annual royalty will also be given for the next 33 years," he said, touching upon the needs of the local people who might have been affected by the project.
As part of the first phase of the project, 8,000 to 10,000 people are expected to get employment. Besides, new avenues of employment will also be generated and priority for these would be given to locals, he said.
A hospital and deer and herbal parks are also to come up in Gorakhpur, which is also to benefit from better road connectivity and skill development programmes.
Singh congratulated the officials of the Nuclear Power Corporation and Atomic Energy Department for the project.
A total of 1,503 acres of land was acquired for the plant, out of which the major share of 1,313 acres belongs to Gorakhpur village. The entire land was acquired from 847 families with approximately Rs 450 crore having been paid in compensation, an official spokesman said.
The project, in the pipeline since 2009, had faced resistance from locals and some environmental activists.
Principal opposition party INLD, too, had raised safety concerns over the project.
Former Army chief Gen (retd) VK Singh, AAP leader Prashant Bhushan and yoga guru Ramdev were among those who had visited Fatehabad to lend support to the anti-nuclear plant campaign.
But the landowners eventually accepted the compensation package offered for the land acquisition.