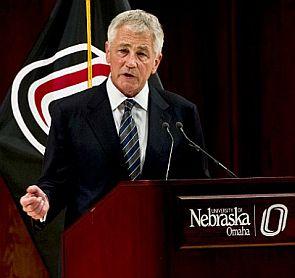 US Secretary of Defence Chuck Hagel has apologised after he was caught on cameras asking an Indian member of an audience if he was a member of the Taliban.

The Pentagon chief made the inappropriate joke after finishing speaking at the University of Nebraska, his alma mater, and began taking questions.
According to the New York Daily News, an Indian member in the audience approached the microphone, prompting Hagel to deliver the extremely inappropriate joke.
A prolonged awkward silence followed the strange question, before the man identifies himself as Robin Gandhi, an assistant professor at the school.

Through a spokesman, Hagel immediately apologised for the remark, explaining that he did not know or see who was approaching the microphone.

"Following a question related to the Taliban, the Secretary made an off-the-cuff joke before the next questioner was called or selected at an appearance at the University of Nebraska at Omaha. Absolutely no slight toward any individual in the audience was intended.
"That's the last thing the Secretary would do under any circumstance, in this or any other setting. He didn't know who would be called next to pose a question," said Pentagon spokesman George Little.