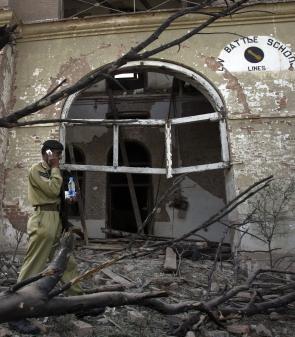 Police in Pakistan have busted an illegal telephone gateway exchange in Lahore, allegedly being operated by the Taliban to make ransom calls to families of persons kidnapped by them, including the sons of former premier Yusuf Raza Gilani and slain Punjab governor Salman Taseer.
Though Lahore police chief Rai Tahir did not confirm how many arrests were made during Tuesday's raid, police sources say at least five suspects, including women, have also been taken into custody.
The Tehrik-e-Taliban Pakistan had also contacted the families of former prime minister Yusuf Raza Gilani and slain Punjab Governor Salman Taseer from the exchange and demanded ransom for the release of their sons Ali Haider Gilani and Shahbaz Taseer respectively.
The raiding team also found weapons and explosives in the house in the thickly-populated area of Green Town.
A police officer called the exchange an 'International Technical Hub' that would show dialling code numbers of Afghanistan and tribal areas of Pakistan, making the receivers believe that the calls were coming from these areas.
An international gateway exchange is a telephone switch that forms the gateway between a national telephone network and one or more other international exchanges, providing cross-border connectivity.
Taliban members made telephone calls from the location to the families of the kidnap victims.
"This exchange was used to make calls to the families of the persons who were kidnapped by the TTP and other militant organisations in different parts of the country to generate huge sums of money for its activities," said a senior police official.
Sources said the building that housed the illegal exchange is owned by one Ajmal Shah but during the raid only one person -- Hasan Gul -- was present in the house.
Authorities also raided other houses owned by Shah in the area and arrested four people, including women.
They have been shifted to an undisclosed location for interrogation.
Image for representational purposes only ' Photograph: Reuters