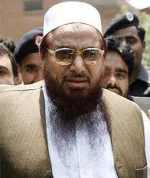 Notwithstanding pressure from India, Pakistan's Interior Minister Rehman Malik on Friday gave no indication of action being taken against 26/11 mastermind Hafiz Saeed, saying there was no credible evidence to arrest him.
"We have no love lost for Hafiz Saeed. If I got the information today before I leave from here (India), I will order his arrest," Malik told reporters on his arrival in New Delhi on a three-day visit during which the visa agreement signed by the two countries in September will be operationalised.
Malik said there has been lot of propaganda and there has been lot of pressure on Pakistan. "I have been receiving dossiers with only information," Malik said, adding Saeed had been arrested on three occasions.
New Delhi has conveyed its strong concerns over Saeed being allowed to roam freely in Pakistan and also indulge in provocative anti-India rhetoric.
Malik said a mere statement of Lashhker-e-Tayiba terrorist Ajmal Kasab, who was executed on November 21, about Saeed's involvement in the 2008 Mumbai attacks could not be the only evidence to nail Saeed. "It needs further corroboration," he added.
"I will make public official documents from the court's judgment where Hafiz Saeed has been declared innocent," he said.
He said Pakistan was still investigating and if there is some evidence, necessary action will be taken.     
On the issue of terrorism, Malik said non-state actors had been playing havoc with the relationship between the two countries, both facing the scourge for many years.
The minister said he had come with a message of peace and wanted to move in a positive direction.
"I do not want any negativity today. What I want is a positive message, positive view forward and let's forget the dark days. Let's enter with shining stars, with smiling faces and clear hearts."
On Samjhuta investigations, Malik again said, "Let's not create any negativity..." and the talks on this issue is an ongoing process and it continues.
On Kasab's hanging, he said, "We have categorically stated that we should respect each other's court verdicts."
About his visit, he said it was necessary for building close people-to-people contacts. "Any country, especially neighbouring countries, cannot encourage friendship between them as long as common people don't interact."

Image: 26/11 mastermind Hafiz Saeed