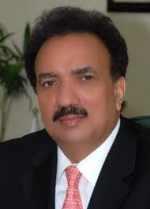 Visiting Pakistani Interior Minister Rehman Malik is likely to meet Prime Minister Manmohan Singh on Saturday but will not have an interaction with Congress Chief Sonia Gandhi.
Official sources said the Prime Ministers' Office had agreed to a morning meeting with Malik after a request was made for the same by the Pakistani authorities through diplomatic channels.
The sources said meetings with the Leader of Opposition in Lok Sabha Sushma Swaraj and National Security Advisor Shiv Shankar Menon are also being fixed at the request of Malik for Saturday before he returns on the same afternoon.
However, the Ministry of External Affairs turned down the desire of the Pakistani side for a meeting with United Progress Alliance Chairperson Sonia Gandhi, the sources said.
The Pakistani interior minister will be arriving at the Palam Technical Airport at 2 pm along with his wife and a delegation, which includes officials from Federal Investigating Agency.
The official-level talks will be held at 5 pm after which a joint statement is expected to be released in the presence by Union Home Minister Sushilkumar Shinde and Malik announcing operationalisation of new Indo-Pak liberalised visa agreement signed during the visit of the then External Affairs Minister S M Krishna and his Pakistani counterpart Hina Rabbani Khar in September this year.
This will be followed by one-to-one meeting between Shinde and Malik ahead of the dinner being hosted for the visiting dignitary by the home ministry.
During the official-level talks, the home ministry will take up the issue of  handing over the voice samples of the handlers of 10 Lashker-e-Tayiba terrorists who had carried out the 26/11 Mumbai terror attacks and the custody of LeT founder Hafeez Saeed.
The Indian side will draw the attention to four booklets handed over to Pakistani authorities during Krishna's visit which include the number of wanted person including underworld don Dawood Ibrahim, activities of the Inter-Services Intelligence in Kashmir, progress on 26/11 and evidences of Pakistani territory being used for anti-India activities, the sources said.
The FIA officials are likely to hold separate meetings with the National Investigation Agency and Central Bureau of Investigation officials during which the issue of pumping fake Indian currency notes into India from Pakistan, smuggling of narcotics will be discussed.
Malik, who arrives on Friday afternoon, will be accompanied by a 15-member delegation and a five-member Pakistani media team. Earlier, the number of delegates was nine. He plans to return on the early morning of December 16.
The announcement and operationalisation of the new visa regime will replace a 38-year-old restrictive accord and will pave the way for time-bound visa approval and greater people-to-people contact and trade.