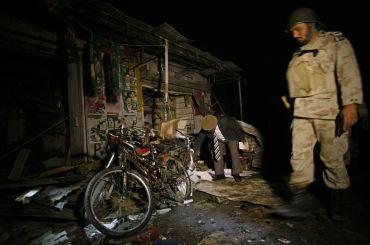 Seven persons were killed and over 60 others injured in five bomb attacks in the Pakistani cities of Quetta and Karachi on Tuesday, including one that was carried out by a suicide bomber who was trying to target the minority Shia Hazara community.
The suicide attacker detonated his explosives-laden truck when he was stopped by Frontier Corps personnel at a check post near Alamdar Road, an area in Quetta with a large Shia Hazara population.
The incident occurred at around 9.15 pm.
Five persons, including a Frontier Corps personnel, were killed and over 40 injured by the powerful explosion, officials said.
Seven of the wounded were in a serious condition, they said.
Officials said the bomber wanted to target Abdul Khaliq Hazara, a top leader of the Hazara Democratic Party.
The attacker's truck was packed with an estimated 80 kg of explosives.
The blast damaged several buildings, shops and vehicles.
Earlier in the evening, Quetta was rocked by three blasts.
Bombs went off in an open field at JinnahTown, Gawalmandi Chowk and an intersection at Gurdat Singh Road.
Six persons were injured at Gawalmandi Chowk and three of them were in a serious condition, police said.
All the explosions in Quetta occurred within a span of two-and-half hours.
The blasts were heard from several kilometres away and caused panic across the capital of Balochistan province.
In Karachi, two persons were killed and 20 others injured when an improvised explosive device went off near an election office of the Muttahida Qaumi Movement at People's Chowrangi area.
The bomb, packed with metal pieces and ball bearings, was planted by the roadside.
No group claimed responsibility for the attacks in both cities.
In the past, the banned Lashkar-e-Jhangvi has claimed responsibility for attacks that targeted Shia Hazaras in Quetta.
Earlier this year, over 200 Hazaras were killed in two separate attacks on the minority community in Quetta.
Caretaker Prime Minister Mir Hazar Khan Khoso condemned the attacks. He also strongly condemned the suicide attack aimed against Abdul Khaliq Hazara.
MQM's London-based chief Altaf Hussain directed the party to close all its election offices after the bombing in Karachi. The party announced plans for a protest across Sindh province on Wednesday.
Hussain drew the attention of the caretaker government and the Chief Election Commissioner to the targeted attacks on MQM workers and said it was their responsibility to maintain law and order.
He questioned how polls could be held when political workers were being attacked by terrorists. In such circumstances, people would not dare to come out of their homes to vote, he said.
He said terrorists were repeatedly attacking the MQM, Awami National Party and Pakistan People's Party but no steps had been taken by authorities to improve the security situation.
Image: Security officials investigate the site of a bomb blast in Quetta on Tuesday
Photograph: Naseer Ahmed/Reuters