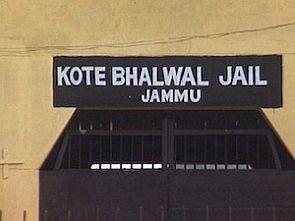 Prisoners from India and Pakistan were segregated at the high security Kot Balwal central jail in Jammu by authorities on Saturday in a bid to prevent recurrence of the attack on a Pakistani inmate.

The Jammu and Kashmir government has also ordered a high-level probe into the Friday's assault on a Pakistani prisoner by a jail inmate.

Authorities increased the number of security personnel at the jail, a day after 52-year-old terror convict Sanaullah Ranjay was seriously injured in an attack by an Indian inmate Vinod Kumar following an altercation. Sanaullah, who was badly beaten up, is serving a life term.
Vinod, a former soldier, was, meanwhile, remanded to seven days police custody.
"The prisoners of India and Pakistan have been segregated--the process is on--they are moved to separate barracks (in Kot Balwal Jail)", Deputy Inspector General (DIG) of Prisons Mohammad Sultan Lone told reporters.

The staff is maintaining strict vigilance on the movement of the prisoners round the clock, he said.

"We have undertaken a full security review headed by Principal Secretary (Home) Suresh Kumar--necessary steps required to be taken to ensure fool-proof security has been taken", DG( Prisons), K Rajindra told PTI.
Kot Balwal jail houses convicted hard core militants of Harkat-ul-Ansar, Hizbul-Mujahideen, Lashker-e-Tayiba, Jeish-e-Mohmmad and separatists apart from hardcore criminals involved in murders.
Meanwhile, the Jammu and Kashmir government on Saturday ordered a high-level probe into the Friday's assault on a Pakistani prisoner by a jail inmate.
An official spokesman said that the probe shall be held by Suresh Kumar, principal secretary in the state home department.
Earlier, the government had ordered that the enquiry will be headed by the divisional commissioner, Jammu.
Pakistani prisoner, Sanaullah -- a resident of Daluwali Sialkot -- was critically injured after being attacked by a fellow prisoner, Vinod Kumar with a garden hoe in the high security Kot Balwal jail.
Sanaullah, who was shifted to the premier Post Graduate Institute of Medical Sciences, Chandigarh in an air ambulance, is on a life support system and continues to be critical.

With Agency Inputs