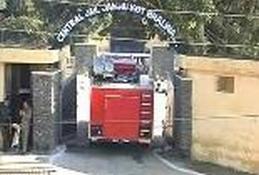 Jammu and Kashmir Police on Saturday said they will approach court for the custody of the inmate who attacked and critically injured a Pakistani prisoner in Kot Balwal Jail.
"We will move court to seek the custody of the prisoner, Vinod Kumar, in connection with the attack on the Pakistani prisoner," said Inspector General of Police, Jammu Zone, Rajesh Kumar.
Sanuallah Ranjay was seriously injured on Friday when he got into an altercation with one Vinod.
As he is already undergoing life imprisonment in jail, Vinod's transfer to the police station for investigation of the case was necessary, Kumar said.
The IGP said probe in the case has started and senior police officers were at the crime scene today as well.
"All the necessary evidence has been collected. The case is very clear. The weapon of offence -- a brick -- has been recovered," he said, adding that Vinod has been booked for the attack.
The evidence is being pieced together and the chargesheet will be prepared soon, he said.
According to preliminary investigation, Sanaullah was working in the jail garden when he entered into an argument with Vinod, a former army jawan who is serving a life term. He allegedly hit the Pakistani prisoner on the head with a brick.
Sanuallah, a resident of Sialkot in Pakistan, was immediately shifted from the high-security jail to the Government Medical College Hospital. He was later rushed to PGI Chandigarh in an air ambulance after doctors said his condition was critical.
The incident comes close on the heels of the death of Indian prisoner Sarabjit Singh due to a murderous attack on him in a Lahore jail.
A former Hizbul Mujahideen militant, Sanuallah was arrested in 1999 and the court awarded him a life term in 2009. The Pakistani prisoner, who was involved in bomb blasts in Jammu city, had also dug a tunnel with some other inmates to escape from Kot Balwal jail.
Vinod was awarded life imprisonment for killing a colleague at an army camp in Leh in 2006.