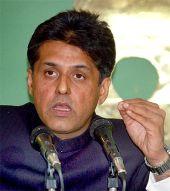 The Congress on Sunday said other National Democratic Alliance partners need to take cue from Janata Dal-United which has insisted on a prime ministerial candidate having a "secular credibility beyond doubt"
Clearly in the glee over the JD-U resolution which is seen as a veto against Narendra Modi's possible candidature for the PM's post, senior Congress leader and I&B Minister Manish Tewari said, "Today these voices have started emanating from within the NDA.
"So I think the other partners of NDA need to take cue from what JD-U has said and step up to the plate and make the vision of the idea of India clear."
"The Congress and other pluralistic parties stand for secular vision of India," Tewari told reporters.
The Congress also used JD-U leader Nitish Kumar's remarks to take a dig at Gujarat Chief Minister Narendra Modi for "beating his own drum" about the developments in the state and spending money on "propaganda" when other chief ministers are performing better than him.
"Modi has been beating his own drum. While other chief ministers have been doing better than him, they are not going around beating their drums," Congress leader Rajiv Shukla told reporters in New Delhi.
His comments came after Bihar Chief Minister Nitish Kumar said "many people accept it as development even when a developed state grows", and stressed that there is a need to see from where did a particular state start its development march.
It was seen as a barb against Modi over his frequent reference to the Gujarat model of development.
"...this is what he (Nitish) must be wanting to convey that I have done more development than you have done but since you are beating the drum and I am not beating the drum, that does not mean that I have not done anything," Shukla said.
He said many other chief ministers have done a lot of good work but they are not "going around propagating or spending so much money on propaganda" which Gujarat government is doing.
Image: Union minister Manish Tewari