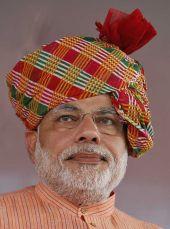 Disapproving of Janata Dal-United's remarks against Narendra Modi, the Bharatiya Janata Party on Sunday firmly stood behind the Gujarat chief minister saying no "unfounded inferences" should be drawn against him
"We reject all unfounded inferences against Narendra Modi," party spokesperson Nirmala Sitaraman told reporters in New Delhi, adding it was "unfortunate" that allies were "concentrating their energies" on BJP chief ministers and diluting the focus on the battle to oust UPA.
Without naming JD-U leader Nitish Kumar, she said the BJP expects allies to keep their main focus on removing the "non-performing and corrupt UPA led government which is taking the "country on a downslide in every field".
"The BJP expects opposition parties and allies to keep their main focus on that. However, it is unfortunate, if they concentrate their energies on our chief ministers and dilute the focus of removing the UPA. The BJP will continue its determined efforts in this direction," she said.
Her reaction came soon after the Bihar chief minister and his party JD-U made no bones about reservations on Modi, giving BJP eight-month deadline to declare its prime ministerial candidate having "secular credibility beyond doubt" for the next general elections.
The JD-U had Saturday criticised Modi saying he "failed in discharging his duties as the head of the state to check communal riots in Gujarat in 2002".
The party in its political resolution at its National Council meeting in New Delhi on Sunday said the candidate for prime ministership should be someone like Atal Bihari Vajpayee or otherwise it will have "negative results".
Nitish Kumar also took a dig at Modi for his frequent reference to the Gujarat model of development, saying many people accept it as development even when a developed state grows, and stressed that there is a need to see from where did a particular state start its development march.
Image: Gujarat CM Narendra Modi