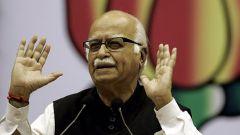 As it virtually shut the door on Narendra Modi, Janata Dal-United on Sunday indicated it would prefer Bharatiya Janata Party veteran L K Advani as National Democratic Alliance's prime ministerial candidate over the Gujarat chief minister.
"NDA had contested under the leadership of L K Advani earlier. I do not think there should be a problem for any NDA faction to go to polls with his leadership. Advani will definitely be more acceptable to most of the factions of NDA," JD-U leader Devesh Chandra Thakur said.
Thakur said this after the two-day national executive and council meet of JD-U which while setting conditions for NDA's PM nominee said in its political resolution that the candidate should be someone like Atal Bihari Vajpayee.
When asked who else in the BJP is closer to Vajpayee's personality or whether JD-U favours Advani for the top job, party general secretary and spokesperson K C Tyagi said, " We have earlier also fought elections under the leadership of Advani. So how can we say that we were wrong?"
Another JD-U leader Narendra Singh, a Bihar minister, said in his view Modi ranks sixth or seventh in BJP's hierarchy. "If seniority is taken into account Modi is far below and Advani is no. one", he said, adding there is no dispute in backing Advani as he had been the face of the NDA in the 2004 elections.
Making a strong case for declaring NDA's PM candidate before elections, the resolution said BJP had declared Vajpayee's name for prime ministership before the elections in 1999 and 2004 and that of L K Advani before 2009.
Noting that there has been a tradition in NDA to name its prime ministerial candidate before Lok Sabha elections, the resolution said, "In this context, it is the clear view of JD-U that NDA's PM candidate's name should be announced before polls since the Lok Sabha elections are scheduled to take place between March and May next year."
Addressing the media after the meet, Tyagi said that "even the grandson of Sheikh Abdullah was a minister in the Vajpayee government. We want such a prime minister.. No body is bigger than Vajpayee."
Asked about the last night meeting of Nitish Kumar with BJP president Rajnath Singh and senior leader Arun Jaitley, Tyagi, who had also accompanied the Bihar chief minister, said that Jaitley had told him that they would sit and talk over it.
"Certain things are said indirectly," was his response when he was asked what was the refrain of the BJP leaders about the prime ministership issue.