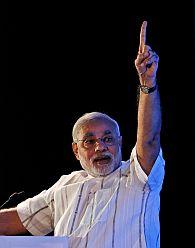 The Andhra Pradesh unit of the Bharatiya Janata Party is going all out to ensure that the Gujarat Chief Minister Narendra Modi's convention, scheduled to be held in Hyderabad on August 11, is a massive success.

Hoping to ride high on Modi's charisma, the party has decided to deploy 3D holographic projectors at key locations in the city besides LB grounds in Hyderabad, the convention venue.

State BJP chief Kishen Reddy told rediff.com, "We first expected that a crowd of 50,000 youths would turn up, but looking at the number of registrations coming in we felt that all could not be accommodated at the LB grounds in Hyderabad. We now expect at least 2 lakh youths to attend the Modi programme. Hence, we decided to set up this technology which was last used in Gujarat during the assembly elections."

This state-of-the-art technology will be set up in 15
different locations in Hyderabad.
State BJP general secretary N V S Prabhakar said that if the need arose, the party would set up 3D holographic projectors at more locations.
According to Reddy, the BJP's fortunes will change after Modi's programme.
The response has been overwhelming and the people of the state want him as the prime minister of the country and will vote for him, he says.
This would be Modi's first address in South India after being chosen as the head of the election campaign committee of the BJP. The BJP is currently weak in AP, but the party expects to change its fortunes after the Modi programme.
The organizers had got into a bit of a controversy when they decided to charge Rs 5 as an entry fee for this programme. However, Reddy later clarified that it was only a voluntary fee and that the proceeds would go towards relief work in Uttarakhand.