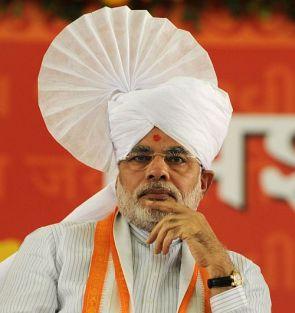 The Bihar unit of the Bharatiya Janata Party removed its spokesperson Ram Kishore Singh from his post on Tuesday, a day after he questioned Gujarat Chief Minister Narendra Modi's popularity and his development model.

State BJP president Mangal Pandey removed Singh following demand of action against him by some BJP leaders including Griraj Singh, former minister and a vocal supporter of Modi.

Singh on Monday negated the claim of Modi on development and praised Bihar Chief Minister Nitish Kumar for inclusive growth of the state. "Modi's so-called appeal will be exposed in the 2014 Lok Sabha polls. It will not be possible for the BJP to reach the magic number of 273 with allies Shiv Sena and Akali Dal. If that happens, it will be a miracle" Singh said.

He said there was little chance of BJP getting adequate number of seats under the leadership of Modi.

Singh said that barring the Nano car project, the Modi government had done nothing substantial and all the development works in Gujarat were carried out by Keshubhai Patel and other previous chief ministers of the state.

Besides, BJP was embarrassed by its Member of Parliament Shatrughan Sinha on Tuesday when he said Nitish Kumar is a prime ministerial material and praised his vision to take all along with him.

Praising Nitish Kumar like never before, the actor-turned-politician said that the JD-U leader is a nice human being and a man of princple.

When asked about Narendra Modi's popularity and likely announcement as BJP's PM candidate for 2014 general elections, Sinha said that Modi is his dearest leader and popular across the country, but Nitish Kumar is a complete PM material.

Last week Satrughan Sinha met Nitish Kumar at his official residence in Patna.

Minutes before meeting Nitish Kumar, Sinha stirred the hornet's nest when he said that he favoured senior BJP leader L K Advani over Modi.

"I like Advani more than Modi," he said, adding, "Modi ke liye Delhi abhi dur hai" (Delhi is still far for Modi).
Narendra Modi is widely believed to be the BJP's prime ministerial candidate for the Lok Sabha election in 2014.

Sinha, who is known for his frankness, expressed unhappiness over the sidelining Advani in the party and its decision-making process.

"It was wrong to have sidelined Advani. It will not help the party," Sinha said.

He described Advani as the godfather of the BJP.
He observed that senior BJP leaders were being ignored and "it is not good for the health of the party".

Sinha also claimed that no BJP leader was "bigger or more popular" than former prime minister Atal Bihari Vajpayee.