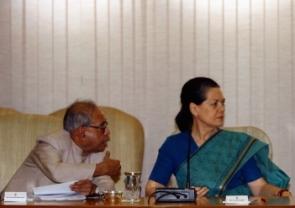 President Pranab Mukherjee, the former trouble-shooter of the Congress party, may informally 'guide' the Union government in drafting the bill on the creation of Telangana.
He will be acting ostensibly on the basis of a memorandum received by him from 35 Members of Legislative Assembly of the Andhra Pradesh's Congress unit.
Indications of Mukherjee's interest in the matter can be gauged from the queries sent by the Rashtrapati Bhavan secretariat to senior home ministry officials, seeking clarifications on how the government is going to handle various tricky issues, including those listed in the MLAs' memorandum.
Andhra Pradesh Governor E S L Narasimhan, who is currently in Delhi, has already held two meetings with Congress President Sonia Gandhi.
The governor also called on Mukherjee during his three-day trip to the capital to emphasise on the need to quickly complete the process of formation of the new state.
Gandhi has also met Mukherjee to share her concerns over the languid pace in drafting the Telangana bill, in spite of the government putting together a Group of Ministers to sort out any niggling issues.
The President's suggestion -- about leaving problematic issues like sharing water and power between Telangana and the rest of Andhra Pradesh for a tribunal headed by a retired judge -- has found favour with the government.
Other contentious issues include the status of Hyderabad, the distribution of Krishna Godavari basin off-shore gas, admissions in central universities and educational institutions, division of the state police force and the imbalance of defence establishments in Telangana.
Following feedback from two separate sources on the delay in drafting the bill on Telangana, Gandhi has urged Prime Minister Manmohan Singh to put the GoM on the fast track.
Dr Singh has been asked by the United Progressive Alliance chairperson to hold three to four meetings in a week to complete the task of drafting the bill.
Gandhi reportedly was visibly angry when she was told that the ministers in the GoM are not ready to stick their necks out while drafting the bill.
In a meeting of the Congress core group on Friday, Gandhi also directed
Parliamentary Affairs Minister Kamal Nath to secure the support of the Bharatiya Janata Party in passing the bill in the winter session of Parliament.
To pass the Telangana bill -- a Constitution Amendment Bill which will require the support of two-third of the members in Lok Sabha and Rajya Sabha -- the Congress will need the BJP's help.
Though the main opposition party has publicly supported the formation of Telangana, the Congress is apprehensive about the BJP raking up other issues to corner the government and delay the passage of the bill.
Nath is planning to hold a meeting with top leaders of the BJP to come to an agreement about the Telangana bill.