Coastal districts of Andhra have been put on alert and control rooms are being set up in Hyderabad and coastal districts to deal with the situation. Mohammed Siddique reports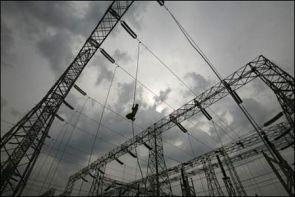 A severe cyclonic storm raging towards the coasts of Odisha and Andhra Pradesh is threatening to overshadow the agitation against bifurcation of Andhra Pradesh.
The storm, packed with devastating gale winds, is presently categorised as deep depression that lay centered around 1,160 km south-south east of Visakhapatnam is likely to intensify further and turn into a severe cyclonic storm, the weather office said.
Andhra Pradesh Revenue Minister N Raghuveera Reddy told reporters that all nine coastal districts of Andhra have been put on alert and control rooms were being opened in Hyderabad, and all the coastal districts to deal with the situation.
Announcing a series of measures to gear the administration, he said the state government has appealed to the striking employees to call of their strike immediately and cooperate with the government in dealing with the situation. "They (employees' organisations) have assured us that the employees of Panchayat Raj, revenue and other departments will take part in the relief and rescue work if need arises."
But the APNGOs Association, which along with other organisation was spearheading the agitation against Telangana state, refused to withdraw the strike.
The coastal Andhra region along with Rayalaseema has already been reeling under the impact of power blackouts due to the strike by the power sector employees.
Raghuveera Reddy told the media that as the cyclone was likely to cross between Paradip and Kalingapatnam, three north Andhra coastal districts of Srikakulam, Vijayanagaram and Visakhapatnam were likely to be affected.
Quoting the meteorological warning, Raghuveera Reddy said that the coastal areas will experience gale winds of 65 km per hour from October 11 and the wind speed will go up to 175 to 200 km per hour at the time of the cyclone crossing the coast. "Some places will receive very heavy rainfall of more than 25 cm," he said.
Sea conditions will be very rough and there will be tidal waves of up to 1 meter above normal level. "All the fishermen who have gone into the sea have been asked to come back," he said.
The state government has opened a control room in Hyderabad and the collectors in nine districts have been asked to open control rooms.
A helicopter was also being kept ready at Visakhapatnam for the relief and rescue operations. The Army and Navy have also been asked to be on stand by.