Only after the final bill for Telangana goes to Parliament will the disturbances in Andhra Pradesh subside, says a senior central government functionary. Sheela Bhatt reports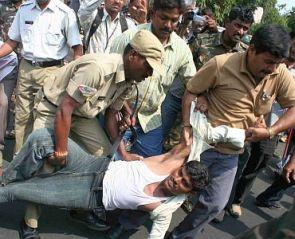 Hyderabad will be the capital of Telangana is clear but other issues are not. There is uncertainty and that is creating turbulence, says a senior government functionary in the United Progressive Alliance government.
"Until we complete the process of formation of Telangana there is going to be turbulence. I think we must expect this," he said.
He claims that the Telangana disorder will continue because politics is involved in it. Political leaders are taking stands as per their advantage and along with them people with genuine grievances are joining the agitation.
The senior source in the central government insists that the central government has not failed to understand the ground situation.
He accepted that it is a difficult environment and one has to ensure that life goes on normally.
"Once there is clarity on various aspects, not just the issues of the capital city, there will be less uncertainty. Then, people will worry much less. People will have to deal with turbulence until there is complete clarity," he said.
He said only after the final bill for Telangana goes to Parliament the disturbances in Andhra Pradesh will subside.
Sheela Bhatt is travelling with Prime Minister Manmohan Singh on his two-nation trip to Brunei and Indonesia.
Image: Pro-Telangana activists being detained by the police
Photograph: SnapsIndia