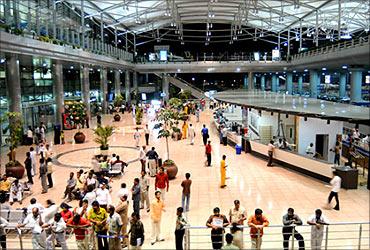 Air Costa, Andhra Pradesh's first regional airline promoted by the LEPL group, will launch its commercial operations from October 14, its Chairman L Ramesh said.
With coastal city Vijayawada as its base, Air Costa would initially operate flights to Hyderabad, Chennai, Bengaluru, Jaipur and Ahmedabad and subsequently to Madurai, Visakhapatnam, Goa, Thriuvananthapuram and Mysore, Ramesh said.
LEPL is currently into infrastructure and power sectors and make its first foray into aviation. "We have already obtained all formal approvals from DGCA for Air Costa operations," the Chairman said.
"We have already taken delivery of two Embraer E-170 jets with twin cabin configuration and will add two E-190 jets next month.
"By the end of 2014, we will add another ten E-190 jets to our fleet," Ramesh said, adding that LEPL would invest a sum of Air Costa to launch commercial operations from Oct 14 100 million in the airline business over the next two years.
Embraer jets were "safe, efficient and economical", offering the same comfort of a larger jet aircraft, he said. "Our mission is to make a niche in the growing air travel market by linking metros to Tier-2 and Tier-3 cities through direct point-to-point connectivity. We have a clear operational strategy that is designed to serve under-served and lesser-competitive routes.
Air Costa will capitalise on the surge in demand for air travel in the country and we will follow a flexi-fare system that is dynamic and market-driven," the Chairman added.
Air Costa currently has 300 personnel on its rolls, including foreign pilots and engineers, and plans to have a dedicated engineering complex at Gannavaram airport (Vijayawada) for maintenance, repair and overhaul.
Air Costa Chief Executive Officer Capt K N Babu and other officials of the airline were present.