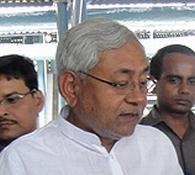 Chief Minister Nitish Kumar on Monday said he will wait for the Centre's decision on granting special category status to Bihar, despite ally Bharatiya Janata Party terming the government's proposal of forming a panel for to decide the backwardness of states as "illusory".
"The Centre has its own way of approaching an issue so what is the harm in waiting for a good result," Kumar told reporters.
Finance Minister P Chidambaram had on Saturday said a high-level sub-committee would be formed to decide the fresh criteria for backwardness and the panel would be told to submit its report in a month's time to decide which state qualified.
"I have no confusion about what Chidambaram said on the issue," Kumar said.
Stating that the special status issue had reached "a critical stage" now, Kumar said if special status was not accorded to the state before general elections, it would be the topmost agenda of the Janata Dal - United in the 2014 polls.
Asked that though he was welcoming Chidambaram's announcement of setting a sub-committee to be headed by Chief Economic Advisor Raghuram Rajan, his National Democratic Alliance partner BJP was describing it as "illusory", Kumar said "I cannot comment about people looking into the politics of it, for me it is an issue of sentiment attached with the development of Bihar."
"It is a demand of the entire state now, so people or the party shall not look into agar or magar (if and but) of the subject," Kumar said.
BJP National General Secretary Rajiv Pratap Rudy had on Sunday described Chidambaram's announcement as "illusory".
BJP national spokesman Shahnawaz Hussain on Monday lambasted Chidambaram for describing Bihar as a backward state which, he claimed, was an insult to over ten crore residents of the state.
Asked about the chances of Bihar being in the list of backward states after the determination of a fresh criteria by the sub-committee, Chidambaram had said that "Bihar will certainly qualify (on the new criteria of backwardness)".
When asked why Chidambaram had talked about setting up a sub-committee for deciding backwardness and not for according special category status as demanded by him, Kumar said, "There should be no confusion as the criteria set up for deciding backwardness will lead to the grant of special category status."
"Once the Centre declares a state like Bihar backward, the next step will be a remedy for backwardness and this can be done through three steps -- granting special status, devolution of more funds and allocation of money under the State Reorganisation Act that came into being after division of the state into Jharkhand in 2000," said the senior JD-U leader.
He said though Bihar has been at the forefront of the fight for special category status, "I will be happy if other states sharing the same fate also get the privilege."
He denied being in touch with chief ministers of any such state to act as a pressure group.