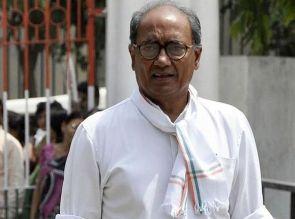 Congress leader Digvijay Singh on Monday took a dig at the Supreme Court over its observation that Central Bureau of Investigation was a "caged parrot," suggesting the description was "belittling" the country's institutions.
Singh's veiled criticism of the judiciary was quickly condemned by the opposition Bharatiya Janata Party which advised the AICC general secretary to "learn and understand" why there were a "series of scams" in the UPA government instead of "blaming the judiciary."
"By calling CBI a parrot in cage, then a Central Administrative Bench in Bangalore calling the IB a chicken...Now I have a question to the people in general. Are we not belittling our institutions? That's it.
"I want you to respond. I will request you to try and get access to all those who are calling our institutions chicken or parrot. You should take reaction from them also," Singh told reporters.
Singh later said the Supreme Court has to be respected and that he had the greatest regard for judiciary.
"And in my political career, I have never sort of belittled the judiciary. But then my only request to the judiciary is that the off-the-cuff observations unfortunately create headlines and at the same time the person against whom the remarks are made doesn't have the opportunity to appeal against these observations," he said.
Singh's remarks came against the backdrop of the recent stinging criticism of the CBI by the apex court which said the investigating agency was a "caged parrot in its master's voice."
BJP lost no time in launching an attack on the Congress leader for "blaming the highest judiciary".
"If the morale of the CBI has been downgraded, it is only because of the rank abuse of the CBI by the government. CBI was deliberately not allowed to take up fair investigation.
"Otherwise the minister of his (UPA) government would not have sought to weaken the import of the CBI's entire investigations in the coal-gate. Why it was done because the prime minister was involved in the coal-gate scam," BJP leader Ravishankar Prasad alleged.
Holding that it is the duty of the SC to ensure a fair investigation in a "massive case of corruption", he said that "instead of blaming the highest judiciary, it is important for Digvijay Singh to learn and understand as to why there are a series of scams one after another in this government and can we know that there will be no scam again in the coming months."