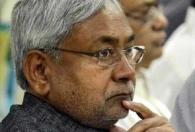 Senior Bharatiya Janata Party leader Sushil Kumar Modi has accused Bihar Chief Minister Nitish Kumar of ordering tapping of phones of his party's leaders and carrying out sting operations to settle political scores.

"Rattled by persistent criticism of his government, the chief minister has stooped low to the extent that he has been misusing his powers by ordering tapping of the BJP leaders' telephones to hear their conversations as well as carrying out sting operations on his rivals," he said in a statement.

Claiming that his phones were tapped by the government, Sushil Modi asked how else could his conversations with BJP leaders at Hajipur a couple of days ago come to the notice of the chief minister.

"The question remains that on whose instruction was my telephone tapped? It should be probed," he said.

Referring to Kumar's 'baseless accusations' that he was 'publicity hungry,'
Modi said he was rattled by a strong opposition ever since parting ways with the BJP.
The charge should in fact be made against Kumar himself for reportedly issuing instructions for not giving
advertisements to newspapers if they did not display news of him or his photographs prominently, the BJP leader said.
Kumar, he alleged, was so hungry for publicity that he had even directed delaying payment of advertisement to the media organisations on numerous occasions.
"The chief minister has no answers to the searching and pointed charges made by the BJP against his government and so he has resorted to making baseless accusations against his adversaries to divert public attention from serious issues," he said
Alleging that Kumar was trying to muzzle the voice of a strong opposition as the BJP was no more with him to 'provide a comfort zone and defend him from attacks from opposition', Modi said he would not succeed in his designs as the BJP was out to fight for public issues.