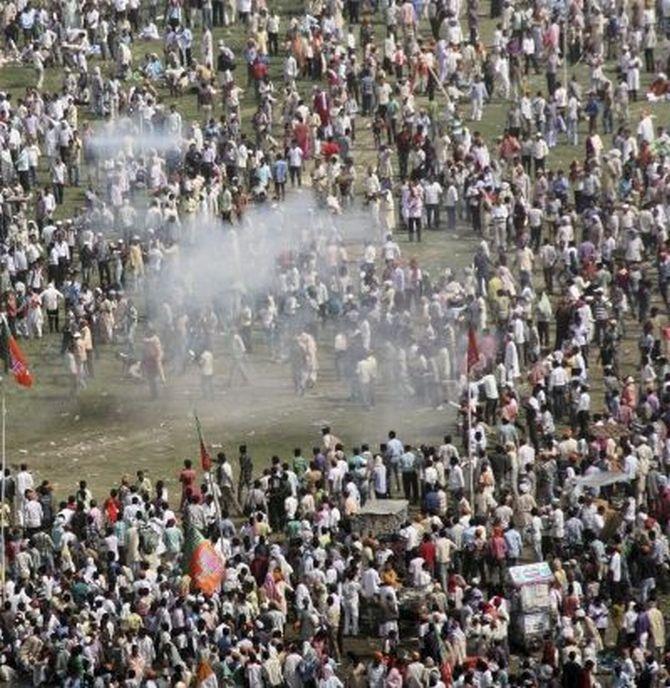 Slamming Narendra Modi for his charge of 'criminal negligence of security' at his rally, Bihar Chief Minister Nitish Kumar on Monday dubbed his Gujarat counterpart as an "expert in cultivation of falsehood" and said terrorists in a way helped the Bharatiya Janata Party in its "otherwise flop" rally.
"The incidence of serial blasts at the rally in Patna was most condemnable... But terrorists in a way helped the BJP, otherwise its rally at Patna was flop in terms of size of crowd," he told reporters.
"Had the blast not happened, everybody would have talked about the thin attendance at the 'Hunkar rally' for which BJP leaders had claimed it would be unprecedented in terms of size," Kumar said after the 'Janata Ke Darbar me Mukhya Mantri' programme. He was reacting to Modi's barbs against him during a poll campaign in Chhattisgarh last week.
The BJP's prime ministerial candidate had said that while blasts were taking place in his rally in Patna, the 'insensitive' Bihar chief minister was 'feasting' at the Janata Dal-United convention at Rajgir. "He has again gone wrong. I had cancelled my scheduled programme at Munger on October 27 to attend an international yoga convention and had proceeded to Rajgir from there. It's on record, anybody can check," Kumar said without naming Modi.
Hitting out at the BJP for accusing him and the Bihar government for security lapses which caused blasts at the rally, he denied the charge and said by repeating it they were following Hitler's advice that if a falsehood is repeated it becomes the truth. He accused Modi of being an expert in 'jhooth ki kheti' (cultivation of falsehood).
Taking a potshot at the BJP, Kumar said, "The rally was a flop in terms of size of crowd as half the Gandhi maidan was empty."
In terms of deployment of security forces, BJP's October 27 rally had been given maximum protection among such political functions at Gandhi Maidan so far, he said. On Modi pointing fingers at him for not supervising the security arrangements for the rally, Kumar said, "Does a chief minister look at deployment of security personnel? Isn't it a duty of the police force?"
"Immediately after getting information about the first blast at a toilet in Patna railway station I left all the work and kept taking stock of minute to minute situation along with state police chief Abhyanand and Chief Secretary A K Sinha."
Kumar said he went to Patna Medical College and Hospital and also the venue of the blasts in the night ignoring security warning.
Referring to the two-day JD-U convention at Rajgir on October 28-29, he said he reached Rajgir during the second half of the convention after taking stock of the situation and giving necessary instructions to officials.
On Modi's accusation of 'feast' at the convention, he said, "The party has neither the aukat (potential) nor the sanskar (culture) of hosting feasts at party functions."
The arrangement at the JD-U convention, which was attended by nearly 5000 party workers and leaders including Sharad Yadav was 'bare minimum,' Kumar said.
"Unlike them (BJP) of hosting party meetings in 5-star hotels, we do not have the culture to host feasts on such occasions as we belong to the socialist ideology," he said, reacting to Modi's remark that Kumar and his partymen were enjoying "56 bhog" (delicious food of 56 varieties) at Rajgir while there were blasts in Patna.
Referring to Modi's repeat visit to Bihar to see the families of Patna blasts victims and accusation against him for not doing so, Kumar questioned, "Had he (Modi) visited hospitals and families of those killed in Gujarat riots in 2002?"
"Isn't it a fact that he visited the hospital at Ahmedabad for the first time when the prime minister went there after the heinous killing of people in riots?"
Continuing his tirade against Modi, the Bihar chief minister said he gave only Rs 5-lakh as compensation to those who died in the Patna blasts to match the amount given by the state government though he hails from a 'rich' state and party that has a 'fat financial position'.
"Had we not given Rs 5 lakh the cash rich BJP would not have given even that much of the amount (Rs 5 lakh)," he said ridiculing Modi's 'condolence trip' to Bihar on November 2 to meet the kin of the blast victims.
Kumar, who parted ways with the BJP over Modi's elevation, said, "He (Modi) is striving for the high post of prime ministership. So instead of speaking unnecessary things he should make it known to the people what is his vision on economic, social issues and foreign policy." He rubbished accusations by BJP that he had prevented policemen from arresting Indian Mujahideen founder Yasin Bhatkal in July and questioning him.
"It's a white lie. Is such decision taken by a chief minister or is it the decision of police and security force in such a situation? BJP leaders were heaping these accusations on him to 'gain space in newspapers and TV channels," he claimed.
Kumar denied that he was 'soft' towards terrorism which has caused incidents like the Bodh Gaya and the Patna blasts and said strict steps were being taken to deal with this new 'challenge' in the state. He congratulated the Bihar police for their "efficiency" in arresting Bhatkal as well as the probe and arrests in the Patna serial blasts and said the brave policemen will be awarded.