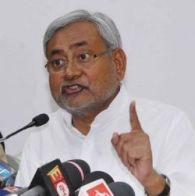 Apparently targeting the BJP for the recent panic buying of salt in the state, Bihar Chief Minister Nitish Kumar claimed that those who offered milk to Lord Ganesha were testing the effectiveness of their rumour mills.
"Those who took the entire nation for a ride by offering milk to Lord Ganesha do such things to test the effectiveness of their rumour mills," Kumar told reporters.
"With the help of social media they spread rumours about scarcity of salt which led people into panic buying," he said, adding that the government controlled the situation within two hours after learning about it.
Kumar also referred to senior BJP leader Sushil Modi "chiding party workers for not calling media persons in adequate number" during his tour to Hajipur to meet injured in the Patna blasts and claimed that the former deputy chief minister was competing with BJP Prime Minister Narendra Modi for limelight.
"They have no genuine sympathy for victims of the blasts .... Their only aim is to draw media attention," he claimed.
About allegations of snooping on a woman against Narendra Modi, Kumar said he had not seen the report and would not comment on it. On SP leader Naresh Aggarwal's "tea seller" remarks against Modi, his reply was the same.
"I made some comments to put the record straight when I was blamed for serial blasts at BJP's rally in Patna and for feasting at Rajgir," he said.
Asked about Narendra Modi's accusation that he was laughing while reacting to the Patna blasts, Kumar said that the BJP was now objecting to laughter.
Queried on Union Home Ministry's alert about possibility of a terror attack on Narendra Modi, Kumar said questions related to security should be answered by state police chief and not him.
On RJD leader Rabri Devi dubbing BJP 'Ravan' and JD-U 'Kans', he said, "Earlier I used to comment on Lalu Prasad, but there is no need to comment on her assertions."
He also justified his minister Narendra Singh calling Narendra Modi the "biggest terrorist", saying, "You are asking me about the comments by my ministerial colleague, but what are they uttering about me?"
Asked about a report said to have been given by Central IB and RAW to the PMO that he was soft on Maoists, Kumar said, "Was this (report) meant for the media about which they know everything, but has not come to me."
He claimed that the Centre's Integrated Plan Action to tackle the Maoist problem was based on the state government's pioneering scheme 'Apke Sarkar Apke Dwar' launched in 2006.
On the Raghuram Rajan committee report putting Bihar in the category of least developed states, he said, "If they do not take a favourable decision, the JD-U will go the people to intensify the agitation for it."
The police said that as per the call details of the MP, he was in constant touch with Jagriti and from October 31 to November 4, there were over 50 telephone calls exchanged between the two accused.
"If he (MP) had filed a divorce plea, then why was he in constant touch with his wife? This is under investigation," it said.
The defence counsel, however, submitted Dhananjay's three-year-old son was residing with Jagriti and she is still his wife so there was no criminality in talking to her.
After the court asked police about the nature of injuries inflicted on the servants, the prosecutor said they were serious in nature and it could have even led to death of a person.
Dhananjay and Jagriti were arrested on November 5 in connection with the death of their 35-year-old maid Rakhi Bhadra, a resident of West Bengal.
Dhananjay, who already faces charges of murder, extortion and other offences under the Gangsters Act, was arrested for allegedly destroying evidence, not informing police about the maid's death immediately and employing a juvenile as domestic help.
Jagriti has been arrested under sections 302 (murder), 307 (attempt to murder), 344 (wrongful confinement) of Indian Penal code and Juvenile Justice Act.
The police had said the CCTV cameras were installed in the MP's house to keep a tab on servants' movements and Jagriti controlled cameras through her mobile phone and TV set.