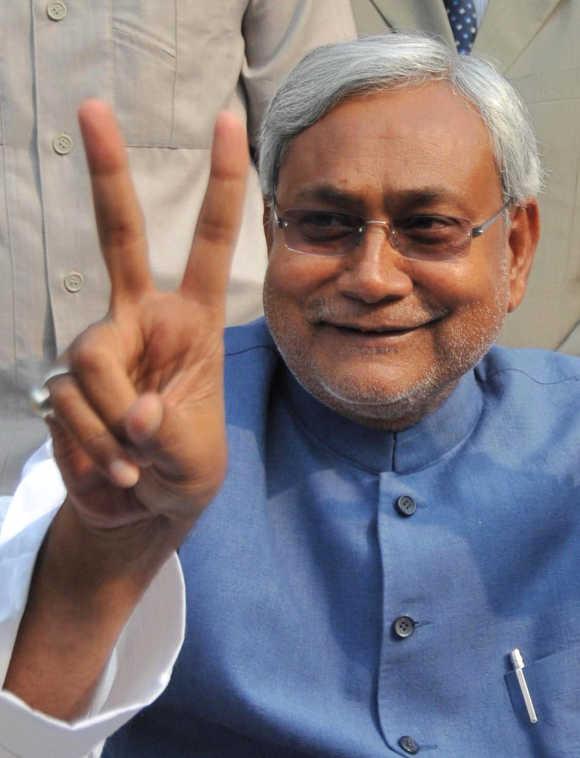 Bihar Chief Minister Nitish Kumar on Thursday said he agreed to attend the foundation-laying ceremony of the AligarhMuslimUniversity campus because it was he who had suggested Kishanganj as the venue.
"It was I who suggested Kishanganj as the venue of the new centre," Kumar told media persons at the airport before leaving for Kishanganj.
The Bihar government provided 224 acres land free and also a building for academic work till the centre came up, he said.
United Progressive Alliance Chairman Sonia Gandhi will lay the foundation of the new AMU centre.
The Bihar government had lodged a strong protest with HRD Minister Pallam Raju, claiming that it was not invited to the inauguration by Gandhi due to political reasons, though the AMU had insisted that it had sent an invitation to the chief minister.
Meanwhile, the Congress fumed at Kumar for his outbursts against it, notwithstanding that his government was dependent on support of four Congress members of Legislative Assembly.
State Congress Vice-President Prem Chand Mishra told media persons that the party high command had been informed about Kumar's comments describing Rahul Gandhi's denouncement of a controversial central government ordinance as "farce".
He had also termed the Congress as a "party of rioters" and of being "timid" in the past two days, Mishra said. "Taking our support and at the same time abusing us will not do," he said.
The Congress leader said the party high command will decide whether to continue giving support to Kumar's government.
He also claimed that the acrimonious outbursts of many Janata Dal-United leaders against top leaders indicated that the Bihar Assembly might see elections within 2014.
The term of the present government is until November 2015.