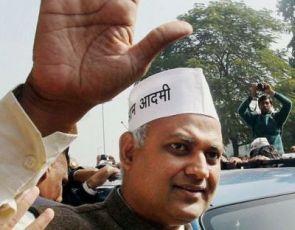 The Delhi government on Wednesday moved to remove DCW Chief Barkha Singh by proposing Hindi novelist Maitreyi Pushpa's name to head the women's commission even as Singh accused the ruling Aam Aadmi Party of targeting her for summoning Law Minister Somnath Bharti in the south Delhi raid episode.
The government proposal to Lt Governor Najeeb Jung to remove Singh, a former Congress member of Legislative Assembly, came five days after she had a public spat with Bharti's lawyers when she refused to allow them to depose before the Delhi Commission for Women on the law minister's behalf in the case.
Reacting to government's move to remove her, Singh, who had lost the assembly election from R K Puram, said she was holding a constitutional post and government was targeting her for initiating proceedings against Bharti.
"I still have one year and four months left in my tenure. The AAP government is harassing me and targeting me because I summoned Bharti in connection with the the ill- treatment of Ugandan women during the midnight raid in Khirki Extension," she said.
Earlier this month, Delhi Pradesh Congress Committee president Arvinder Singh Lovely had asked all party men to quit various posts in government-run boards and commissions following "tradition and convention".
Delhi Minister Manish Sisodia said all the political appointees should have resigned on their own immediately after a new government took charge. He said government has decided to replace her with a "non-political person".
When asked about Lovely's direction to partymen to relinquish their posts in boards and commissions, Singh claimed the DPCC chief had withdrawn the directive. Several Congress leaders have already followed Lovely's directive.
"The government has proposed Maitreyi Pushpa's name to the Lt Governor to head the DCW," a government official said. Sixty-nine-year-old Pushpa is a Hindi fiction writer and has 10 novels and seven short story collections to her credit.
The DCW chairperson had summoned Bharti over allegations that he had led a group of supporters against some African women after claiming they were involved in a drug and prostitution racket. The AAP had alleged "politicisation" of the Commission by its chairperson.