Welcoming Raghuram Rajan panel report which has put Bihar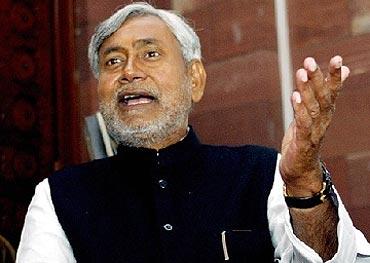 among the least developed states, Chief Minister Nitish Kumar on Thursday described it as a 'victory' for the state but was non-committal on alliance with the Congress for the forthcoming Lok Sabha elections.
"Do not talk of politics today... We will take stock of the political situation at our Chintan Shivir at Rajgir on October 28-29 next," Kumar said when asked whether favourable report by the United Progressive Alliance government would pave the way for an alliance between the Janata Dal-United and the Congress for 2014 Lok Sabha polls.
Kumar had in the past said that his party would extend support in 2014 Parliamentary elections whoever supported Bihar's demand for the special category status.
The Rajan Committee report, which puts Bihar among 10 least developed states is being seen as the Congress reaching out to the JD-U.
Incidentally, the JD-U has severed its 17-year-long alliance with the Bharatiya Janata Party in June over the elevation of Narendra Modi as the party's poll panel chief.
The Bihar CM said the revisiting of criteria for declaring backwardness as carried by the sub-committee headed by Rajan would "open all doors for future economic assistance".
However, it would have been better if the panel had taken per capita income as criteria for deciding economic backwardness of the states instead of per capita consumption, the CM said.
"But, still even this form of the report is also welcomed," he said and added that he had thanked Union Finance Minister P Chidambaram for the 'positive' report.
Nitish Kumar, who visited the JD-U state headquarters to share his happiness over the report with partymen, was greeted with drum beats and bursting of crackers.
JD-U Rajya Sabha member of Parliament, RCP Singh, state party spokespersons Sanjay Singh and Ranjan Prasad flanked the chief minister at the press meet at party headquarters.
About the panel report not mentioning the special category status, Kumar said that Union Finance Minister P Chidambaram had said it was subsumed in the report and the finance ministry would look into it for future actions.
"But, the report is still something akin to it (special category status)," a visibly upbeat Bihar CM said, adding, it would help in more devolution of Central funds, tax exemptions and lowering of the state's share in Central assistance.
"The report is a victory of JD-U principles... I will not rest on laurels but continue to work hard so that the issue reaches logical conclusion," he claimed and greeted nine other states featuring among the least developed states saying they too would derive benefits.
"Bihar launched the struggle which has benefited nine other states also," he said.
Asked if it meant forging a regional front with those states on it, Kumar said, "We launched a struggle for special category status for Bihar... And it is good it helped other states also."