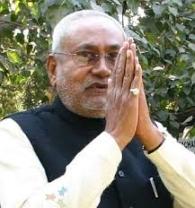 Bihar Chief Minister Nitish Kumar on Saturday took a dig at the Bharatiya Janata Party over naming Narendra Modi as its prime ministerial candidate, saying the party was on a path of destruction and claimed the Janata Dal - United's decision of severing ties with it three months ago has been vindicated.
"Vinash Kale vipreet buddhi (taking wrong decisions when on path of destruction)," Kumar told reporters.
Kumar, who was instrumental in his party breaking up with the BJP over the issue of Modi's elevation after being a part of the National Democratic Alliance for 17 years, said the saffron party was working against opposition unity.
The country would never accept a "divisive" element, the senior JD-U leader said.
"This was the right time to unite opposition parties against the United Progressive Alliance government on issues like price rise and corruption, but the BJP is working on some other agenda," he said.
Instead of adding new partners in the NDA, the BJP lost a trusted friend like JD-U, Kumar added.
The JD-U had parted ways with the BJP on June 16.
Without naming veteran BJP leader L K Advani, who has been cornered within the party to elevate Narendra Modi as the PM nominee, Kumar said, "There is no respect for elders in the BJP."
On the jubilation in the BJP, the Bihar CM, whose aversion for Modi is no secret, said "They are going ecstatic within their own house (BJP) but there is no jubilation among the common people."
The BJP is trying to create an environment in favour of its leader but the party would never succeed, he said.