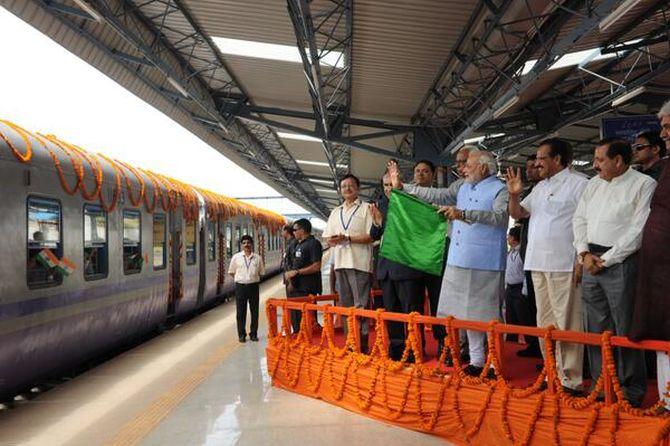 Will Katra's gain be Jammu's loss? Locals in the area are worried that the development of the new railway line will affect their livelihoods, as pilgrims heading to Vaishno Devi will be able to bypass Jammu completely. This will affect tourism, the main source of income for many in the area, observes Upasana Pandey.
Last Friday, amid much fanfare Prime Minister Narendra Modi inaugurated the Udhampur-Katra railway line. While, this development was lauded by many, residents of Jammu have expressed some wariness over the new rail line. The reason: the new line will allow the million pilgrims heading to Mata Vaishno Devi shrine to bypass Jammu completely, which has so far been the travel hub for devotees.
Anuradha Bhasin Jamwal, executive editor, Kashmir Times, said, "This is a welcomed development, as pilgrims will be able to directly reach Katra. However, there is skepticism among traders, who are wary that it might affect the tourism business, especially those in the dry fruits, hotel and transport sector."
Explaining further, she said, "Jammu, known as the city of temples, thrives essentially on the high pilgrim footfall, as well as the trade of dry fruits such as walnuts, almonds and other food items, including rice, Kashmiri rajma and Kashmiri handicrafts, which generate huge income for the locals."
Anuradha added that Jammu is not entirely dependent on pilgrim tourism, as it also functions as a transport hub for all major parts of Jammu and Kashmir apart from being the winter capital of the state.
"The expectation from both the Centre and the state government will be that it would work on maintaining the balance. Also, development of Katra has to be stepped up, so that it can cater to the huge flow of pilgrims. Additionally, there are ecological concerns which need to be addressed," she concluded.
Avtar Krishnan Mota, chief manager, Punjab National Bank (J&K Circle) says, "Traders fear a drop in business in hotels and sale of products. But, one good thing is that tourists visiting Srinagar will still have to use Jammu as a halt point. This can change only when the train connectivity up to Srinagar becomes functional, which will take some time."
And it appears that the Katra station and train hasn't gone down well with all. There are murmurs of displeasure over the poor development and pitiful maintenance of tourist spots in Jammu. "The Katra railway station is beautiful and scenic, while the Jammu railway station does not even have a proper boundary wall, says Pradeep Dutta, a journalist in Jammu.
In fact, even Jammu and Kashmir Chief Minister Omar Abdullah during the inauguration pointed out that Jammu station needed to upgrade vis-a-vis the Katra station, which is equipped with all modern facilities, including a tourist guide counter, a cloak room, a VIP lounge and escalators.
Additionally, several other ambitious plans to develop tourist attractions in Jammu are yet to take off. "There has been a plan to develop an artificial lake near the river Tawi Bridge and construct a ropeway between Bahu Fort and the old Jammu Palace. Both these projects are yet to see the light of day," added Mota.
Many in Jammu cite the case of Pathankot, which connected three states of Himachal Pradesh, J&K and Punjab, before Jammu came up as a railway hub. "People are worried that Jammu will go the Pathankot way and experience a sharp dip in tourist footfall, which will adversely affect life in the city," says Rekha Chowdhary, Indian Council of Social Science Research National Fellow, Jammu University.
Rekha added there is a need to revive the charm of Jammu by creating new tourist attractions and promote the already existing spots in a more innovative manner. The famous Raghunath temple is one of the key tourist attractions apart from many other temples in Jammu, which would need better maintenance and upkeep to continue drawing tourists.
She also points out that even if Katra experiences a boom in hotels, it would also have to ensure that the supply of basic amenities such as water and power supply can cope with the tourist rush. "People will still need to use Jammu, which has quite a few hotels, so people shouldn't get too alarmed, said Rekha.
With the state assembly elections around the corner, it would serve the central government well to ensure continued business and tourism in Jammu apart from planned development of Katra. It will be interesting to see if Jammu residents will be ready to cast their confidence in PM Narendra Modi's promise of "winning the hearts of people of Jammu and Kashmir".
Image: Prime Minister Narendra Modi flags off the inaugural Katra-Udhampur train. Photograph: PIB