Miss India 1997 Nafisa Joseph allegedly committed suicide at her home  in Versova, suburban Mumbai, late on Thursday. She was 25.
Friends pay tributes to the model
Sathya Saran, editor, Femina
She was always a bright and bubbly person. I remember I met her first during selections for the Femina Miss India Contest. And I remember she came across as a clear winner.
Usually when the girls stand in that line-up, they are tense, nervous and you can see that. This girl was like, 'Look at me!'
She was very confident and I knew she could hold her own. I always [give] the girls a talisman just before the final contest. I had gone across to give them, and I remember her mother was there. She was standing there, saying, 'Oh ya, I will do a good job, don't worry.'
People say her career was going nowhere. People say she was not high profile, but I have always known her as a person who was constantly doing things.
She worked a lot of the Blue Cross and People For Animals in Bangalore. And she was definitely one of our better veejays.
Diana Hayden, Miss World 1997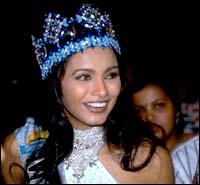 I am just returning from the hospital after paying my condolences to the family.
Nafisa and I were crowned the same year [Diana was Miss India World]. We spent a whole year in an apartment in Mumbai's Pali Hill that is given to the three Miss Indias.
Throughout the Miss India pageant and the whole year, she was great to work with. We got along well and spent some happy times together. There was no bitchiness among the three of us during that time.
The most striking thing about Nafisa I found was that she was the most sensible 18-year-old I have seen till date. She was articulate and one of the most 'together' [collected, composed] girl I knew.