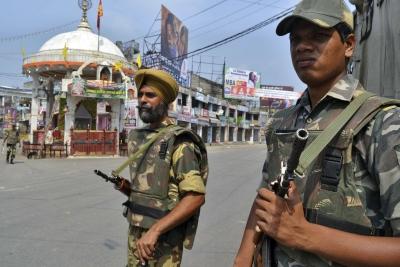 Several Muslim organisations on Wednesday demanded dismissal of Samajwadi Party government in Uttar Pradesh and imposition of President's rule in the state, saying Chief Minister Akhilesh Yadav has failed to contain communal violence in Muzaffarnagar and surrounding areas.
Addressing a joint press conference here at the central office of Jamiat Ulama-i-Hind, leaders of various Muslim organisations said that the Samajwadi Party government has failed to control the deteriorating situation in riot-hit areas.
The organisations rejected Akhilesh's claim that riots are fall out of conspiracies by Opposition and asserted that Opposition parties in any political dispensation try to destabilise the government by vitiating communal harmony, creating law and order problem, but it is the duty of the ruling party to maintain law and order situation.
"But the Akhilesh government has reasonably failed to do so, therefore this government has lost moral high ground to remain in power," they said. The Muslim leaders alleged that more than 105 communal flare-ups have taken place within two years of the SP regime, which shows the failure of the government.
The press conference was addressed by various leaders including Maulana Mahmood Madni, general secretary Jamiat Ulama-i-Hind, QRS Ilyas, Member of All Muslim Personal Law Board, Maulana Nusrat Ali, general secretary Jamaat-e-Islami Hind, Zafrul Islam Khan, president of All India Muslim Majlis-e-Mushawarat, Taslim Rahmani, president, Milli Political Council of India among others.
Communal violence in Muzaffarnagar and adjoining towns has so far claimed 40 lives.
Image: Soldiers stand guard on a deserted street during a curfew in Muzaffarnagar
Photograph: Reuters