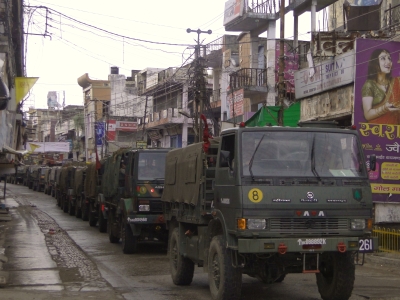 Under fire over the handling of the communal flare-up in Muzaffarnagar, Samajwadi Party president Mulayam Singh on Tuesday defended the Akhilesh Yadav government, saying it took stern measures and the situation was brought under control in two days.
"The government did everything to control the violence. It was stopped in two days. The security forces dealt with the problem very effectively," he told reporters.
"It is because of the sternness shown by the government that the situation remained calm," Mulayam said.
There was no failure on the part of the Akhilesh Yadav government in handling the situation, he claimed.
Reacting to allegations that the SP-led dispensation did little despite being alerted by the home ministry about the impending violence, he said, "The government was alert."
"However, several lives have been lost, the death toll is 36. It is a big number," Mulayam said.
The violence in Muzaffarnagar and its adjoining areas were not riots but the result of caste conflict, he said.
"Whatever happened is the result of caste conflict. Even if you call it a riot or caste conflict, it is very dangerous. Whatever has happened is sad and unfortunate," he said on the eve of the party's two-day National Working Committee meeting.
On Governor B L Joshi condemning the state government in his report to the Centre on the violence, the SP chief said, "The governor keeps sending reports to the Centre and there is nothing new in it."
On the opposition parties' allegation that as many as 100 riots had taken place during the Samajwadi Party rule, he said, "This is a big lie."
To another question, Mulayam said he was not a prime ministerial candidate.
"I am not a prime ministerial candidate. Narendra Modi (BJP's front-runner) will not succeed as a Third Front will get majority in the coming Lok Sabha elections," he said.
The SP president said a Third Front would be formed only after the elections.
"There is every possibility of the formation of the Third Front after the election results are announced," he said.
Mulayam said the Samajwadi Party would contest the next Lok Sabha polls in West Bengal.
Besides issues like corruption and inflation, the Working Committee would deliberate on the forthcoming assembly polls in five states, he said.
Image: The Indian Army stages a flag march in Muzaffarnagar