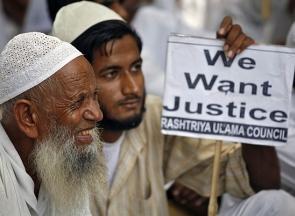 Muslim organisations, who have for years claimed that the Batla House encounter was fake, have not changed their stand after Thursday's verdict. A court agreed with the Delhi police's version of the encounter and ruled that the only man arrested in the case is guilty of killing Inspector Mohan Chand Sharma five years ago.
Dr Zafarul-Islam Khan, president, All India Muslim Majlis-e-Mushawarat, New Delhi, told rediff.com that, it is too early to comment. "We do not know in detail what the judgment really says. The judge has convicted one person who is claimed to have fled from the L-18 flat in the Batla House area. The building has only one exit, which was manned by the police. There is no possibility to escape by jumping. Anyone attempting that would only break his bones."
"If the judge had visited the building he would surely have rejected this theory cooked by the police. The input for the encounter came from the same infamous Intelligence Bureau special director who provided intelligence, which were used for 17 fake encounters in Gujarat. They are being probed now."
"We continue to believe that the Batla House encounter was fake and we stand by our demand for a high level judicial inquiry into the incident," said Khan.
Meanwhile in Delhi, Manisha Sethi of the Jamia Teachers' Solidarity Association said that the judgment was surprising. "We are disappointed. We will need to look into the judgment and see how the questions of the defence were disregarded."

Image: Members of Rashtriya Ulama Council hold a placard as they take part in a protest against what they call a fake encounter, in New Delhi

Photograph: Reuters