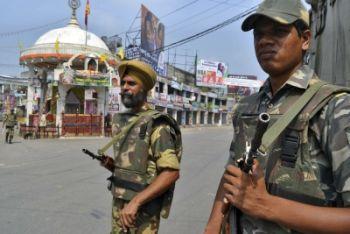 After sitting over the warrant against legislators accused of inciting the Muzaffarnagar riots, the Akhilesh Yadav government finally got into the act and arrested Bhartiya Janata Party MLA Suresh Rana in Lucknow on Friday evening.
The arrest was made soon after Rana came out of the state assembly and was on his way home in Lucknow's Gomti Nagar locality.
According to the police, Rana's car was intercepted by the cops near Ambedkar Park where a contingent of police took him into custody. Initially, he was taken to the Gomti Nagar police station from where he was hurriedly whisked away in another vehicle to an unknown destination.
Rana was facing a warrant of arrest for making provocative speeches at the 'Mahapanchayat' convened jointly by BJP and the Bhartiya Kisan Union at Kawaal village of Muzaffarnagar district, which triggered the riots.
Together with Rana, warrant of arrest was also pending against another BJP MLA Bhartendu Singh, who was likely to be arrested later on Friday night.
Evidently, the Akhilesh government is desperate to label BJP as the real culprit behind the riots and it will leave no stone unturned to wash off the common perception that his government's laxity in handling the riots was largely responsible for the huge casualty of nearly 50 human lives and property worth crores.
Meanwhile FIRs were lodged for the same reason against BJP leader in the state assembly Hukum Singh, MLA Sangeet Som, Bahujan Samaj Party MLA Qadir Rana as well as others including a Congress leader. Their arrests may follow later.
Image: Army personnel patrolling the streets of curfew-hit Muzaffarnagar during communal riots
Photograph: Reuters